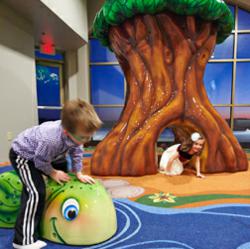 The kids love it. Their imaginations go crazy! And the parents like the time to connect with each other. It's been a great addition to our community.
Waukesha, WI (PRWEB) June 10, 2013
RiverGlen Christian Church began in 1994 with just 24 people and no home to call its own. Fast forward to 2013 and the church hosted 5,000 Easter attendees among its four churches in southeast Wisconsin. As part of its growth initiative, the church installed a new PLAYTIME-created toddler playground to give families a reason to stay after church longer.
"RiverGlen is very much about outreach and family," says Anne Brooks, Director of Elementary Ministries. "Our soft playground is definitely a safe environment where kids can play and parents can drink coffee and minister to each other."
As part of a recent "Generosity Initiative," members of the church raised money that was used toward building new churches, ministries in Africa and even a new playground at the main church.
"People really sacrificed for this campaign," says Brooks. "They got rid of smartphones and televisions. They were sacrificing things so that we could give opportunities to others."
Brooks says that the indoor playground was the brainchild of senior pastor Ben Davis.
"Our senior pastor likes to go for walks in malls when he can't walk outside due to bad weather," explains Brooks. "He saw a PLAYTIME playground at the mall and said, 'I want that for our families.'"
PLAYTIME, LLC is a commercial playground manufacturer and the global provider of unique, interactive, soft play areas and playground equipment for indoor, outdoor and water play.
The RiverGlen playground is positioned next to a picture window that looks out across the church's acres of undeveloped property. The play elements include a large tree, fish, lily pads and a bear all situated on PLAYTIME's soft playground flooring.
With a coffee shop in the church, as well, Brooks has found that parents linger at the church longer and share their stories of faith while their children play.
"The kids love it," says Brooks. "Their imaginations go crazy! I've even seen some of them to pretend to swim on the carpet. And the parents like the time to connect with each other. It's been a great addition to our community."