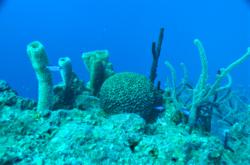 Miami, FL (PRWEB) June 08, 2013
Changing Seas, an Emmy award-winning WPBT2 original series, premieres four exciting new episodes in primetime this June. This season viewers will explore the deep blue as never before, visiting some of our most exotic locales to date! Season 5 features a research trip to Belize where coral hybrids thrive, divers who search for a sunken slave ship, an encounter with the mysterious creatures that lurk in the deep, and an expedition to French Polynesia to study some of the most remote reefs in the world.
"We filmed in some really spectacular locations this year and I am thrilled to share a lot of cutting edge marine science with our viewers," says Changing Seas series producer Alexa Elliott.
The new season of Changing Seas premieres Wednesday, June 19 at 8:00 p.m. on WPBT2, with two episodes back to back. Two more new episodes will air the following Wednesday, June 26 at 8:00pm. Changing Seas is a television series focused on ocean issues and exploration. The series goes to sea with the explorers and scientists, giving viewers a first-hand look at how oceanographers and other experts study earth's last frontier.
EPISODE DESCRIPTIONS:
SHOW#501: Coral Hybrids- Broadcast Date: Wednesday, June 19, 2013 – 8:00pm ET
While Elkhorn and Staghorn corals have undergone a drastic decline in the Caribbean, their hybrid, "Fused Staghorn," is increasing in numbers in parts of the region. One scientist is studying the animals in Belize to see if the hybrid might be better equipped to deal with environmental stressors than its parents.
SHOW #502: Sunken Stories- Broadcast Date: Wednesday, June 19, 2013 – 8:30pm ET
In the Florida Keys, divers from around the country learn how to map shipwrecks and apply their skills on a mysterious 18th-century slave ship. When diving isn't possible, professional explorers use high-tech tools to scan objects buried beneath the seafloor.
SHOW #503: Creatures of the Deep- Broadcast Date: Wednesday, June 26, 2013 – 8:00pm ET
In the cold, deep waters of the Gulf of Mexico, little-known animals spend their entire lives far removed from our human world. Until now, little research has been conducted on these creatures of the deep, keeping much of their lives a mystery.
SHOW #504: Reefs of Rangiroa- Broadcast Date: Wednesday, June 26, 2013 – 8:30pm ET
A co-production with the Khaled bin Sultan Living Oceans Foundation
Scientists with the Global Reef Expedition are on a six year mission to study remote coral reefs around the world. While in French Polynesia, the experts conduct extensive habitat mapping to create one of a kind seafloor atlases. Scientists also assess the health of the reefs to compare and contrast the resilience of reef systems over a large geographical area.
Major funding for this series is made possible by the Batchelor Foundation and Divers Direct.
About Changing Seas
Changing Seas airs on 90% of public television stations in the U.S. and in 34 countries across the globe. http://www.changingseas.tv
About WPBT2
South Florida's premier public broadcaster, WPBT2, is a community-licensed, not-for-profit media enterprise serving communities from the Treasure Coast to the Florida Keys. WPBT2 provides high quality content from PBS, independent acquisitions and its own original productions. WPBT2's digital media platform offers: 2HD, a 24-hour high definition channel; Digital 2.2, a mix of Science & Nature Channel, The Florida Channel and Create; Digital 2.3, V-me, a 24-hour national Spanish-language network; and http://www.wpbt2.org, the WPBT2 website including, Impromp2 (a community blog), the WPBT2 Video Player and uVu, a video sharing website.