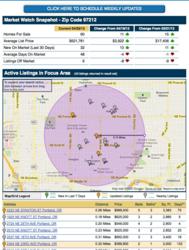 Unlike the large national systems of largely inaccurate home valuations, this new system displays the relevant data to the client so with their local Prudential agent a proper price can be determined.
Portland, OR (PRWEB) June 11, 2013
Prudential NW Properties, one of the leading Portland and Vancouver real estate companies in the greater northwest (See Portland Homes for Sale here), has launched their new Market Watch trends activity reporting system. Built as the premier way for agents to stay in touch with both clients and prospects, this proprietary system focuses all the multiple listing service data for a pinpointed address, neighborhood or city and displays the data in several methods in weekly emails or through a client-accessible web portal.
Merging together school and community information, along with statistics including price changes and time on the market, the system displays an interactive map for the user to custom define their radius area. This map functions as a simple pull-out from the initial radius center. Prospects and initial users of this new system have shown much higher rates of interactivity and satisfaction than previous campaigns.
Another unique feature is the way the data is parsed. Instead of the system trying to guess at the user home value based solely on random numbers much like some national web systems, it displays all the data so the user and their Real Estate agent can effectively determine a market price for both buyers and sellers.
Prudential NW Properties' website is powered by Reliance Network, the national leader in Real Estate website development services. The Market Watch trend reporting has proven itself throughout the country and is quickly becoming the leader in client CRM reporting tools for mid-size and large real estate companies.
Prudential NW Properties again is proving itself as the go-to source for Portland and Vancouver area client-based technology. Those interested in learning more about the revolutionary Market Watch feature can visit Prudential Northwest Properties.
About Reliance Network:
Reliance Network, which includes BrokerTec Systems, is the industry's go-to source for competitive real estate marketing, website and productivity software development, and full service support – including real estate company and agent websites (Real Estate Web Site Solutions), contact and lead management (Real Estate CRM) and full service training, support and virtual assistance. With deep roots in large real estate brokerage operations, Reliance has a core understanding and proven track record of developing innovative products for the world's leading real estate companies. The cooperative goal is to help modern real estate brokerages realize the added financial, competitive and operational benefits afforded by a reliable technology partner. Founded in October of 2001, with its roots dating back to 1995, Reliance Network operates in over 600 MLS markets, serving more than 100 leading brokers, 110,000 real estate agents, receives over 4.8 million unique site visits per month, and sends out over 27 million CRM emails per month from agents to consumers. For more information, visit http://www.RelianceNetwork.com.