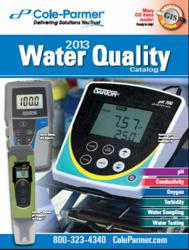 Vernon Hills, IL (PRWEB) June 07, 2013
The new 2013 Water Quality Catalog from Cole-Parmer offers a comprehensive selection of pH, conductivity, dissolved oxygen, turbidity, water sampling, and water quality testing instruments and supplies. This 98-page catalog highlights Guaranteed in Stock (GIS) products, which are ready to order and ship.
Efficient new options in water testing are featured in the catalog. The Thermo Scientific™ AQUAfast™ Turbidity Meter offers faster calibration and measurements with a user-friendly interface. It is compliant with ISO 7027 IR LED, ISO 7027, and DIN 27027 standards. The Thermo Scientific™ AQUAfast™ Chlorine Colorimeter allows for free and total chlorine measurements for US EPA-approved methods in a rugged IP67-rated design. The Thermo Scientific™ AquaMate™ Spectrophotometers are programmed and designed specifically for water quality testing, with more than 260 preprogrammed water quality methods plus user-customizable methods.
Find these and many other items, including a range of Oakton® pH meters for water quality monitoring, in the 2013 Water Quality Catalog. To request a free copy, call 800-323-4340 or visit ColeParmer.com/20126.
Cole-Parmer has been a leading global source of laboratory and industrial fluid handling products, instrumentation, equipment, and supplies since 1955. Our product lines, including popular brand names such as Masterflex®, Oakton®, and more, are sold through company-owned customer channel outlets and a strong network of international dealers. We also feature an ISO-17025-accredited metrology lab for instrument calibration and repair. Cole-Parmer responds with excellence to customer needs, and offers application expertise and technical support. For more information, contact Cole-Parmer, 625 East Bunker Court, Vernon Hills, IL 60061. In the US, call 800-323-4340. International customers, call 847-549-7600. Visit us at http://www.coleparmer.com.