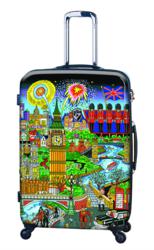 Fazzino luggage is one of the most unique lines of luggage we offer at LuggagePoint.com. Our customers have been bombarding us with positive feedback and requests--we are thrilled to be able to offer them this quality product on our website
Somerset, NJ (PRWEB) June 27, 2013
The industry-leading online retailer of luggage and travel accessories, LuggagePoint.com, recently announced the launch of Charles Fazzino's collaboration line with Heys filled with distinct and artful luggage and has been working around the clock to keep up with the demand.
Charles Fazzino's name has been synonymous with bright, whimsical and wonderfully detailed 3D Pop Art that is recognized in hundreds of galleries and museums worldwide. Charles Fazzino is a graduate of the School of Visual Arts in New York City and is one of the most popular and highly-collected pop artists of all time. Prized for his intriguing designs, Fazzino has teamed up with Heys to introduce a spectacular line of luggage, now available at LuggagePoint.com.
From upright spinners to beauty cases, 3D art now travels with you. As stated by LuggagePoint.com owner Sumit Bhanote, "Fazzino luggage is one of the most unique lines of luggage we offer at LuggagePoint.com. Our customers have been bombarding us with positive feedback and requests--we are thrilled to be able to offer them this quality product on our website."
Established in 1986, in the suburbs of Toronto, Heys® International Ltd. has since become a global leader in luggage design. Heys is known for designing luxurious, fashionable, lightweight luggage with a high standard for excellence in workmanship and quality. Heys has now combined their excellence with the Fazzino artistry to create a luggage line unique, durable and stylish.
The selections available to customers range from hard and softside cases, rolling bags, spinners, and iPad cases, all of which are offered in a variety of colors and 3D pop up art designs. The company is also extending a limited time offer of free shipping on all orders of $75 or more, as well as up to 25% off select items, making LuggagePoint.com an unbeatable choice for summer travelers.
About LuggagePoint.com:
Founded in 1999, Luggage Point.com followed the genre of e-businesses and has grown to be considered as one of the number one online retailers of handbags and luggage accessories. By providing great quality products with fast, 24/7 customer services and reasonable prices, Luggage Point.com has been able to carve a niche for itself among the fierce competition in the market. To learn more about Luggage Point.com and their products, visit http://www.luggagepoint.com/ or contact their highly knowledgeable customer support team at (877) 877-7804.