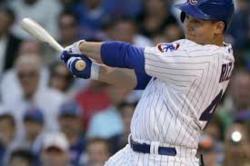 Chicago, IL (PRWEB) June 06, 2013
Cubs fans can now find their 2013 Cubs tickets, news and schedule at http://www.ChicagoCubs-Tickets.org.
The Cubs' trip out west to play the Angels was well worth it Wednesday night, but it didn't look that way until the tenth inning. Anthony Rizzo struck at three run double with two outs to give the Cubs a 8-6 win over the Angels. They had a chance to sweep out in California, but lost 4-3 in a thriller on Tuesday. Mark Trumbo tied the game with a home run in the eighth off James Russell of the Cubs, and then hit another in the tenth to make the game a little more exciting. But Rizzo then delivered in the tenth as well. Rizzo has now driven in a run in 6 of his last 12 games. He also has eight extra base hits in his last ten games. Rizzo is very young and such a hot player right now, which is why he signed a contract with the Cubs for $41 million over seven years. The team depends on him, and in situations like Wednesday night, they know he can get the job done. They know he is going to continue to grow into an even more outstanding player than what he is now, and they are excited to watch as he does so. If you want to watch Rizzo and the rest of the Cubs try and conquer the NL Central, go to http://www.ChicagoCubs-Tickets.org, where you can find Cubs tickets to any game, a social media fan hub, and an active blog. Go Cubs!