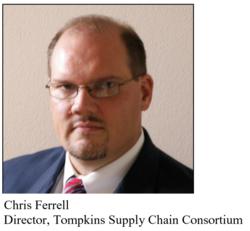 RALEIGH, NC (PRWEB) June 06, 2013
A new report by Tompkins Supply Chain Consortium examines the latest technologies and features for supply chain success. Investing in the right technologies helps retailers meet the challenge of today's omnichannel customer, whose shopping expectations call for demand-driven supply chains.
The report, Supply Chain Technology: Applying the Latest Products and Features to Your Supply Chain, reveals today's technology solutions in enterprise resource planning, transportation management systems, and warehouse management systems, among others.
"The most successful retailers recognize supply chains as key enablers of the transformational customer experience and use it to distinguish themselves from the competition," says Chris Ferrell, author of the report and Director of Tompkins Supply Chain Consortium.
The greatest technological advancements are being made in tactical components of the supply chain, such as MOVE (transportation) and STORE (facilities), as companies look for high return on investment (ROI) and quick payback. The best supply chain technologies will create value for customers through visibility, flexibility, and speed.
"The world's leading supply chain organizations will judge their technology spend almost exclusively through the prism of exceeding customer expectations as a means of maximizing profitability," Ferrell notes.
To learn more about how companies across the globe are using innovative technology to meet new customer expectations, download the report here.
For more on technology trends and other supply chain topics, register for the 2013 Tompkins Supply Chain Leadership Forum, August 26-28, in Atlanta. Registration is open to supply chain executives of retailers, manufacturing companies, and shippers. Click here to register or learn more about the forum.
About Tompkins Supply Chain Consortium
Tompkins Supply Chain Consortium is the premier source for supply chain benchmarking and best practices knowledge. With more than 350 participating retail, manufacturing and wholesale/distribution companies, the Consortium sponsors a comprehensive repository of over 10,000 data points complemented by search capabilities, online analysis tools, topic forums and peer networking for supply chain executives and practitioners. The Consortium is led by the needs of its membership and an Advisory Board that includes executives from Domino's Pizza, GlaxoSmithKline, Hallmark, Ingram Micro, Kane is Able, Miller-Coors, The Coca-Cola Company, Target and University of Wisconsin. To learn more about how your company can become a member of the Supply Chain Consortium, contact John Foley, 919-855-5461 or visit http://www.supplychainconsortium.com
CONTACT:
Keri McManus, 919-855-5516
kmcmanus(at)tompkinsinc.com
Connect with Tompkins Supply Chain Consortium: http://www.supplychainconsortium.com/rc/connections.asp