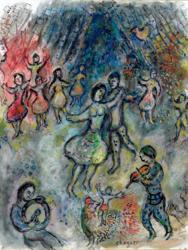 I have always painted pictures where human love floods my colors. - Marc Chagall
Greenwich, CT (PRWEB) June 08, 2013
Martin Lawrence Galleries Boston is delighted to announce a special exhibition and champagne reception showcasing major works by Modern Master and Romantic artist Marc Chagall on June 15th, 2013 from 2:00 – 4:00 pm. The event will also highlight major original and hand-signed graphic works by contemporary Romantic artists, Liudmila Kondakova, François Fressinier and Felix Mas, all of which are available for acquisition.
Artists from the acclaimed Double Edge Theatre of western Massachusetts will be on hand throughout the show and will present a segment based on their historical work, The Grand Parade, a theatrical presentation depicting major events from the 20th C inspired by Chagall's visions of humanity at play, war and rest. The Grand Parade premiered in Washington D.C. in February 2013 and was followed by a Russian premiere in Moscow in March.
"Art lovers will not want to miss the opportunity to view and acquire from our collection of rare signed, color masterpieces by Marc Chagall from suites such as The Odyssey, Daphnis and Chloe and The Story of Exodus. And, to add to the excitement, we are thrilled to announce that we will unveil several new original works by Chagall, Kondakova, Fressinier and Mas at the event", states Gallery Director, Hillary Holmes. Both the Director and seasoned gallery consultants will be on hand to speak about the connection between Chagall and HIS contemporaries as well as the themes of romance, beauty and color in their work. They are delighted to guide visitors in starting or adding to their art collections.
Founded in 1975, Martin Lawrence Galleries is dedicated to the understanding and appreciation of fine art. Specializing in original paintings, sculptures and limited edition graphics, the gallery is distinguished by works of art by Picasso, Chagall, Warhol, Mirò, Rembrandt, Murakami, Erté, Kondakova, Philippe Bertho, Robert Deyber, Doug Hoffman and Kerry Hallam among many others. They are committed to offering only the finest quality artwork while maintaining a high level of integrity to their clients.
For additional information about the June 15th event, please contact Martin Lawrence Galleries Boston at 617-369-4800 or at boston(at)martinlawrence(dot)com.