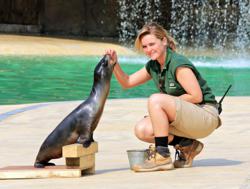 Khaled Fawzy, Head Trainer for Animal Events at Blackpool Zoo, said: "Visitors have really taken Rubi to their hearts and she has been a big hit with everyone. It is safe to say that she really is a star in the making!"
(PRWEB UK) 7 June 2013
A super keen baby sealion at Blackpool Zoo can't wait to follow in the footsteps of her talented mummy.
Rubi, who turns one on Sunday 9th June, has become an integral part of Blackpool Zoo's popular sealion display after taking upon herself to stand next to her mum's podium at every given opportunity!
Kind-hearted keepers have even built her a miniature version of the podium and are carrying out very basic positive reinforcement training techniques to make the little star of the future feel fully involved.
Sealions don't generally start any training until they are two, but Rubi has been so fascinated by her mummy, Anya, and auntie, Gina, that she couldn't wait to get started!
Khaled Fawzy, Head Trainer for Animal Events at Blackpool Zoo, explained: "Rubi is one of two sealion pups that were born here last June and since birth she has always showed a very keen interest when her mother, Gina, was taking part in the sealion display.
"Gina and her half sister Anya star in our daily sealion displays and we have always allowed the pups to be in the arena whenever their mothers were. This practice allows the mother and pup to remain relaxed at all times as they always know where the other is.
"In recent months, Rubi has been sitting right next to her mother throughout the displays and, although we don't usually start training sealion pups until they are around two years old, we wanted to allow her to get involved.
"We built a tiny version of the podiums that Gina and Anya use during the displays and were delighted to see that Rubi jumped straight on!
"As a result, we have started using very basic training, which is really just getting her used to the positive reinforcement techniques that we use.
"Visitors have really taken Rubi to their hearts and she has been a big hit with everyone.
"It is safe to say that she really is a star in the making!"
Blackpool Zoo's sealion displays are hugely popular with the public. In 2012, the zoo introduced a sealion experience package, which allows visitors to go behind the scenes at the Active Oceans Arena and meet the sealions during school and Bank Holidays.
Blackpool Zoo is open at 10.00am every day of the year except Christmas Day. Closing time is 5.45pm and last admission is 5.00pm. Visitors can save on admission prices by booking online at http://www.blackpoolzoo.org.uk.
Ends:
Picture shows: Rubi and Keeper Alyx Milne
More information about Blackpool Zoo: Blackpool Zoo celebrated its busiest year to date in 2012, which was also its 40th anniversary.
Blackpool Zoo is owned by Parques Reunidos, the second largest European leisure parks operator and a leading world-wide player. The zoo is home to over 1,500 mammals, birds, reptiles and invertebrates set amidst thirty-two acres of mature woodland and lakes.
The zoo's signature animals include elephants, giraffes, big cats, gorillas, orang-utans, sea lions, primates, zebras and kangaroos. It is open every day of the year, apart from Christmas Day, from 10am.
For further information please contact:
Paula Holden on 07772268378 or 01772 679383 or paulamarieholden(at)yahoo(dot)co(dot)uk