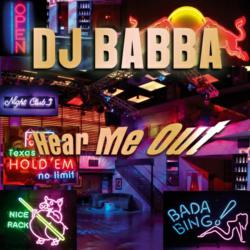 (PRWEB) June 07, 2013
International rising star DJ Babba (Netherlands) is one of the best new artists in electronic dance/trance music. His debut album Hear Me Out is now available in stores as iTunes, Amazon and more. The album has 16 great electronic songs, including some great instrumental electronic sports/dance/trance music and some vocal songs by Romy (ex 2 Unlimited), Eddy King, David Lightfoot and more. If you like music from Armin van Buren, David Guetta you will love his music.
Album promo video
http://www.youtube.com/watch?v=IKeM67lkbL4
Direct link to album in iTunes
https://itunes.apple.com/gb/album/hear-me-out/id651870615
DJ BABBA WEBSITE
http://www.youtube.com/user/DJBabbamusic
Album is released on SAM SAM MUSIC Label and available with all major online music stores like iTunes, Amazon, Emusic, Napster and music streaming services like Spotify and Deezer.
Album HEAR ME OUR song info
1. Blow My Whistle (Hot Football Edit)
2. Dancer
3. I Don't Wanna Live My Life Without you (Feat. Romy - 2 Unlimited)
4. Savier
5. We Are In Love
6. I'm Gonna Live My Life The Way That I Want To (Feat. David Lightfoot)
7. Deuce (Tennis edit)
8. Closer
9. Temptation
10. Salvation
11. Blow My Whistle (Footbal radio edit)
12. Walking On a Line
13. Play It Again
14. Bossa Nova Baby (Feat. Eddy King)
15. Blow My Whistle (cool Football edit)
16. Mister Disco (Funny bonus track)
DJ Babba Biograpphy
DJ Babba is a new rising international star growing up in the 80's in Holland (Netherlands) with influences from the 80's , Synthesizer Pop (Vangelis, Jean Michel Jarre, Kraftwerk), Reggea and Italo disco music.
DJ Babba has been working in the music industry for many years now producing albums for other artists. His music style varies from Dance, Trance, Pop, Electronic. The last year he has been working together with some great and famous singers to complete his first debut album.