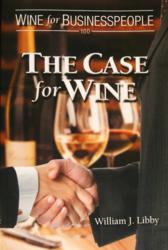 This new business-entertainment book is packed with case studies of wine triumphs and wine bloopers.
Muskegon, MI (PRWEB) June 11, 2013
"Wine is much more than a pleasant drink," says William J. Libby, author of Wine for Businesspeople 100: The Case for Wine. "In the hands of a pro, wine is a power-tool."
According to Libby, long-lasting business relationships hinge on positive feelings. "People who know how to forge fracture-proof bonds lock in durable, profitable connections with clients and customers."
While head of his own consulting firm, Libby studied the top performers among his clients—those responsible for annual sales in the hundreds of millions—and found a common trait. Beyond merely doing a great job, front-rank salespeople also put considerable effort into making customers feel special.
The professionals who earned the highest levels of loyalty routinely tapped a valuable ally: entertaining with wine. Libby focused his attention on the ways execs' entertainment styles could set the tone of get-togethers, put guests at ease and open conversations on nonbusiness topics. He concluded their wine-related practices were spot-on.
"Sharing wine slows time, melts barriers and creates a setting ideal for relationship building," Libby says. "It makes the process of getting down to business a pleasure because it improves the atmosphere in which business is conducted. Management maven Peter Drucker provides an additional insight: 'More business decisions are made over lunch and dinner than at any other time...'"
The links between Drucker's observation, enduring relationships and wine got Libby thinking. He researched other associates' experiences with wine. The result—Wine for Businesspeople 100: The Case for Wine—is a collection of case studies that reveals execs deploying wine tactically, to contain and resolve unexpected problems, and strategically, to successfully advance personal agendas over the course of entire careers.
The book also documents how a lack of wine skill sabotages the unprepared. Libby's case studies illuminate many junior- and senior-executive moments when entertainment shortcomings caused the best of intentions to backfire. These bloopers underscore the usefulness of wine smarts for anyone with entertainment responsibilities.
Libby advises firms to train their people in the many uses of wine in business. "Every rainmaker should know how to avoid embarrassing mistakes, as well as how to move confidently among decision makers in the top tiers of business. Such confidence comes only with committed effort, continuous practice and careful mentoring."
Wine for Businesspeople 100: The Case for Wine is available in print ($16.95) and Kindle ($2.99) editions at Amazon.com
William J. Libby is lead instructor at Strategic Entertainment Programs. SEP specializes in business-entertainment training and performance-tracking programs for professional organizations that serve high-value clients and customers.
Contact: Bill Libby
203-820-6655
blibby(at)strat-ent-pro(dot)com
http://www.strat-ent-pro.com