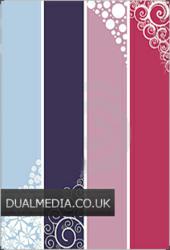 Clients should expect a great return on their investment in copy, web design and search engine marketing.
Blackpool, Lancashire (PRWEB UK) 10 June 2013
Dual Media are a Preston web design company that focuses on bringing results to their customers as they have a holistic approach to design that covers all angles. This approach includes the clever use of SEO, memorable design and multimedia channels to ensure clients reach the top of the search engines and maximise their promotional ability.
Many big brands have already benefitted from these services with all seeing an incredible increase in conversions. Some clients have even sold their eCommerce websites for millions of pounds after help from the team at Dual Media.
Now, Dual Media are celebrating again as their head of copywriting has won the best freelancer award for the tenth time. This adds to the Microbusiness award she won earlier in the year, proving that Dual Media only hire the best for their clients.
Martina Mercer, although freelance, works part time for Dual Media, supplying copy to their big brands that complements design, Search Engine Marketing and increases sales. Her copy is unique as she has an HND in psychology that she combines with a degree in English and 20 years of business knowledge to create copy that persuades the visitor to buy.
From the web copy to the blogs, Martina Mercer's work has been reviewed by over 400 people who have given her 5 out of 5 stars feedback across the board. Now as the most successful freelancer, she continues to work with Dual Media to provide copywriting services that attract, engage and sell.
Andrew Brown, the CEO of Dual Media is not surprised by the award but is of course pleased, he says, "We hired Martina as she shared our ethos of giving clients a great return on their investment. Martina understands that every piece of copy she writes should bring a potential source of revenue to our clients. Whether it encourages visitors to share a witty blog entices shoppers to buy with psychological copy or engages with features and articles her copy always enhances a business significantly. We now know, that this, combined with our web design and SEO expertise gives our clients the best ever service for ensuring their website grows and becomes a household name."
Dual Media Ltd are one of the UK's leading online development and marketing specialists whose clients range from corporate giants such as the Telegraph, The NHS and Hi life diners club to local SME's and small online e-commerce shops. We provide a full suite of online services which design, corporate identity, App development, Search engine marketing and bespoke programming / database management.