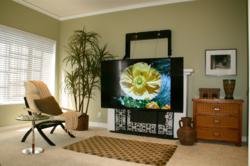 Santa Monica, CA (PRWEB) June 11, 2013
Since the introduction of large flatscreen TVs about 15 years ago, American homeowners have wanted to mount their TVs over their fireplaces. After all, that's where their sofas and chairs are already facing. The price they paid for this arrangement, however, was having to look up at an awkward angle, which caused neck strain and discomfort. Designed specifically to address this problem, the new ComfortVu over-the-fireplace motorized TV mount, automatically moves a large TV down 34" and forward 25" for optimum viewing, with the press of a button.
"Americans watch 250 billion hours of TV annually," says Joseph Lee, inventor and President of ComfortVu, LLC. "So many of them are uncomfortable doing so because their flatscreens are mounted too high on the wall, especially those placed above fireplaces. They have tolerated the discomfort because there hasn't been an alternative, until now."
Gamers, too, will welcome the change. Even if their TVs are mounted at a comfortable height, they can now sit on the floor, looking directly into the world of their games.
According to Nielsen Media Research's latest report, the average American household watches eight hours and fifteen minutes of television every 24 hours, with each individual averaging about four and a half hours. Tilting one's head at an awkward angle for even a few minutes is uncomfortable, but sitting like this for hours on end is even worse. Americans spend a huge percentage of their time watching television; that's unlikely to change. The new fireplace TV mount allows this time to be spent more comfortably.
Contact:
Joseph Lee
President, ComfortVu
(310) 829-9815
http://www.ComfortVu.com
Joe(at)ComfortVu(dot)com