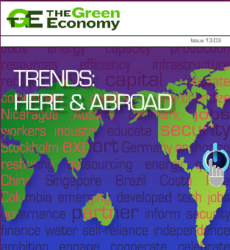 "Our neighbors overseas are capitalizing on green energy projects fitted to their locale and needs," said Tana Kantor, publisher of The Green Economy. "They are opening doors for US businesses in global sustainability opportunities."
Princeton, NJ (PRWEB) June 11, 2013
American manufacturing jobs, once driven overseas by low prices, will return as companies innovate, according to The Green Economy.
"We can't compete on price, but we can compete on innovation," said Mr. Free, CEO of MFG.com.
At the same time, trends overseas impact how U.S. businesses approach innovation, product sourcing and manufacturing.
"Our neighbors overseas are capitalizing on green energy projects fitted to their locale and needs," said Tana Kantor, publisher of The Green Economy. "They are opening doors for US businesses in global sustainability opportunities."
The global economy is going through transitions that create enormous opportunities in unusual places, with new partnerships driving market expansion from Singapore to Nicaragua.
About Us:
The Green Economy is an online magazine and website, providing reliable, fact based, in-depth reporting on energy, technology, policy, design and finance.