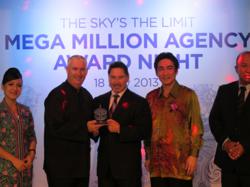 New York, NY (PRWEB) June 06, 2013
Leading travel technology company Fareportal was one of four U.S. travel companies invited to accept the Mega Million Award from Malaysia Airlines at the Chateau Hotel in Kuala Lumpur last month. The company's recent developments and innovations for its travel websites, including CheapOair.com and OneTravel.com, have resulted in a notable increase in sales for many of its airline partners.
Fareportal was acknowledged at the award ceremony as the fastest growing revenue agency for Malaysia Airlines, with a 228% increase in sales year over year. It was honored alongside other industry-leaders including C&H International, Orbitz and Tzell Travel.
"Malaysia Airlines was pleased to recognize Fareportal as one of the top ten travel companies in 2012. The year over year growth shows a strong commitment on behalf of Fareportal to help increase Malaysia Airlines' product globally, and we look forward to continuing our partnership in 2013 and beyond," said Thomas Spagnola, Senior Vice President of Supplier Relations at Fareportal.
Duncan Bureau, Senior Vice President of Global Sales and Distribution at Malaysia Airlines said, "Malaysia Airlines is proud to work with an innovative and creative organization like Fareportal to distribute our inventory. We will continue to look for ways to create demand and brand awareness for our 5 Star Award-winning products."
Fareportal's strong relationships with airline partners in Asia also have a direct benefit to consumers, with the company noting increased customer bookings to popular cities including Manila, Beijing, Shanghai, Seoul and Bangkok in 2013. All of these destinations are served by Malaysia Airlines through its major hub in Kuala Lumpur.
For more information about Fareportal and its brands, visit http://www.Fareportal.com.
ABOUT FAREPORTAL
Fareportal is an industry-leading travel technology company that develops innovative tools for leisure and business travelers, partners and suppliers. Its range of products includes affordable travel deals across the mobile and social web, and advertising solutions that deliver value and results. With a portfolio of brands including CheapOair.com, CheapOair.ca, CheapOair.co.uk, CheapOstay and OneTravel, Fareportal makes booking and planning travel easy and hassle-free for millions of customers every year.
ABOUT MALAYSIA AIRLINES
Malaysia Airlines serves more than 60 destinations in almost 30 countries across Asia, Australia, the Middle East, Europe, and North America, with major gateways including Hong Kong, London Heathrow, Los Angeles, Sydney, Frankfurt, Amsterdam, Istanbul, Paris and Tokyo Narita. MH joined oneworld in February 2013 and now has access to over 850 destinations in over 150 cities worldwide.
Malaysia Airlines describes its distinctive brand as an extension of the special culture of warmth and friendliness unique to Malaysians. This inimitable Malaysian sense of graciousness is branded as "Malaysian Hospitality" and symbolized by the acronym MH, which is also the airline's flight code.
Last year, Malaysia Airlines marked the entry of its first A380 into its fleet by having its Five-Star Airline status renewed by Skytrax – as the airline embarked on a series of improvements to reposition it as a premium carrier.
###