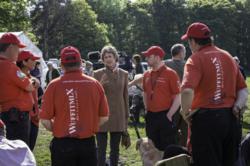 They will continue to be fed this complete balanced diet as it no doubt contributes to their success.
Clitheroe, Lancashire (PRWEB UK) 12 June 2013
Wuffitmix Dog Food are celebrating this month after a team they sponsored won the International Working Tests at Chatsworth on the 30th and 31st of May. The working dog food supplier announced in May that they were preparing to sponsor the UK Gundog team and this new development is obviously a mark of success.
The UK Gundog Team emerged as the victors as they completed a series of tests to determine if they were indeed the best.
Sporting the Wuffitmix colours of red and white, the gun dogs were assessed on their working ability in simulated shooting conditions. In competition with many other teams, dogs are judged on their health, fitness and training.
The team comprised of:

Richard Johnston (team captain) of Northern Ireland with his dog Shimnavale Excalibur aka 'Taz'
John Halstead of England who was running Lady Selena's dog Asterix Aguzannis of Chatsworth aka 'Astra'
Stan Payne of Scotland with his dog Rimouski Caley Oakstan aka 'Caley'
Andy Fisher of Wales with his dog Vamp Pipsissewa aka 'Trigger'
Hannah Dugdale the manager of Wuffitmix is understandably proud to be part of the achievement attained by the UK Gundog Team, she says, "The UK team did WuffitMix proud and we were delighted to sponsor such a talented team and are hoping to do so again next year. I learnt a tremendous amount about the sport and thoroughly enjoyed spending Friday with the team and cheering them on. I was also honoured to meet the Duchess of Devonshire who kindly allowed the test to be carried out at Chatsworth."
John Halstead of the UK team trains the Duchess's dogs and the dog he ran at the test is actually owned by her daughter, Lady Selena.
All of the dogs were fed working dog food from Wuffitmix, a complete dry dog food that contains all of the nutrients and vitamins hard working dogs need when training hard for a competition such as this. They will continue to be fed this complete balanced diet as it no doubt contributes to their success.
More information can be found at http://www.wuffitmix.co.uk.
WuffitMix is a range of nutritionally complete diets for working, sporting and domestic dogs - from puppies to seniors. Wuffitmix is owned by Dugdale Nutrition, a family run animal feed manufacturer based in the North West of England. The business dates back to 1850 and spans over 6 generations, with 2 generations currently working at the company premises in Clitheroe, Lancashire.