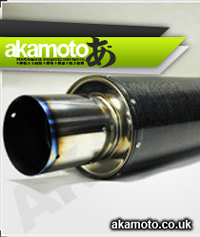 We have to remind customers of the dangers of using our kits on a public road
(PRWEB UK) 10 June 2013
Akamoto are the leading supplier of vehicle enhancements in the UK. They allow car owners to upgrade their engines using a variety of products such as nitrous oxide systems and performance exhausts.
Since the release of Fast and Furious 6 however they have seen an incredible increase in their sales of flame exhaust kits which has prompted them to issue this statement to warn drivers about how to use these safely.
The flame exhaust kits are very impressive as they add a tail of flames to single or twin exhausts, making the car sound louder while giving the Hollywood touch that is seen in films such as the Fast and the Furious and Death Race.
These exhausts are compatible with virtually any vehicle with a single/twin muffler or tailpipe and claim to feature many specialized parts that other Exhaust Flames Kits can't match.
When the system is activated through the push button switch, the control module allows the vehicles ignition system to be momentarily interrupted. This encourages unburnt fuel to travel through the exhaust which is then ignited via the spark plugs and long tailed flames are produced.
This is an effect that is coveted by many racing drivers, especially those in the media world, as it is often used in movies or photographs to create a stunning display. However, Akamoto are now urging their customers to exercise caution when buying these kits, as they can be quite dangerous if used on public roads.
Andrew Brown the CEO of Akamoto says, "We know our customers are responsible and use these off road or on private land yet we do have to remind drivers about the consequences if used on a public road. The flames can travel far damaging cars behind while causing an incredible distraction that could cause a serious accident. We want people to enjoy our engine enhancements and products but we also want them to consider the safety of themselves and others too. So we're reminding everyone that these should not be used lightly and that even off road people should check what's behind them before pressing the power switch."
The kits come complete with everything a customer needs for exhaust flames from the installation guide to the power button.
Akamoto are a leading supplier of nitrous kits, performance exhausts, alloy wheel and dump valves. They constantly update their stock to include the latest technological advancements such as exhaust flames. They source and supply everything a discerning driver needs to modify their car for less.