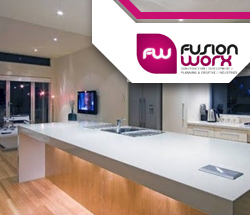 We constantly retrain due to advancements in modern technology.
(PRWEB UK) 10 June 2013
Fusion Worx are builders in Blackpool with a difference as they work closely with homeowners and businesses to provide a service that goes beyond the average build.
Hitting the news for urging the government to back an initiative to provide new jobs to those in the construction industry, Fusion Worx also ensure that their services are Eco-friendly, reducing the cost of utility bills through impeccable finishes such as extensions and double glazing. Now Fusion Worx builders in Preston are taking their services a little bit further, demonstrating that they are in tune with their customer's needs. Recently they have received requests for build from families who adore contemporary designs but fear modern spaces may not provide a safe child environment.
As many contemporary designs focus on a pristine finish, customers usually compromise by choosing products and materials that won't be damaged by sticky fingerprints or ruined with occasional spills, yet Lancashire builders Fusion Worx have now developed their designs to ensure all parents can embrace cleaner living whether they have a family or not.
One example of this extends to their conservatory service where they work intensively with the customer examining not only the dream of the finished product but also the customer's lifestyle. Working in this way Fusion Worx then bring their expertise to deliver designs that please all household members, from the very young to the very old.
Andrew Brown, the manager of Fusion Worx explains how this works. He says, "A lot of our customers adore the thought of a complete glass conservatory that gives them 270 degree views of their garden, however they worry about the heat in the summer and the need to clean it constantly due to little hands. We constantly retrain due to advancements in modern technology ensuring that when new products come onto the market we have the expertise to use them in our building work, ensuring customers receive the very best. For instance, we can offer solutions that incorporate glass which absorbs heat but stays cool to the touch, glass that tints to ensure the room never overheats or even self-cleaning glass that minimises the time spent polishing windows. As new products flood the market every day, we keep our finger on the pulse so our customers have access to the best building solutions at all times."
To see recent projects, please visit http://www.fusion-worx.co.uk.
Fusion-Worx are builders in Lancashire who are a group of licensed industry professional's ranging from builders to joiners, to electricians to plumbers. Fusion has the ability to take on both domestic and commercial projects no matter what size the job is or what it entails. From a simple house conservatory to a restaurant or shop rebuild, no job is too big or too small.