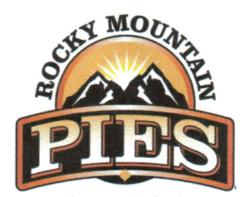 Our team has created some exciting ways for grocery buyers to private label our high quality pastries.
Salt Lake City, UT (PRWEB) June 06, 2013
Can pie suppliers provide the best of both worlds?
Many grocery food buyers find themselves wanting a high quality product along with the freedom to label that product with their own brand. As one of the premier dessert manufacturers in the United States, RMP has created a delectable new V.I.P. program that will help grocery retailers to put their best foot forward. "We had decided that if a buyer wanted to order their fruit pies, or other flavors, and have them displayed with their exclusive, private labels; we wouldn't stand in their way," said Mark 'Par' Grandinetti, President of Rocky Mountain Pies.
How does this opportunity help retailers?
The company knows that what matters most to grocery buyers is a high quality pastry. As award winning pie suppliers, the staff at RMP knows that creating unique flavors with a rich, flaky pastry crust is the key to any successful product. For years, dessert manufacturers across the country have worked diligently to produce that home-baked taste. This means that their fruit pies, pumpkins, cream flavors, and other rich traditions must hold up to the standards as laid out by 'Grandma' over the years. Many large-scale pie makers have been unable to rise up and meet that standard set by something that typically requires a 'from scratch' bake, but RMP swears by its quality.
Private label or not, it will stop their shopping cart:
The company emphasizes that despite the success of their new V.I.P. program, there is still a benefit to using their standard labeling as greatly respected pie suppliers. Regardless of the business model and labeling, the company maintains a standard as diverse, exquisite dessert manufacturers, enforcing the same quality standards in every pastry they make. Whether a buyer is in need of high quality fruit pies, traditional holiday flavors, or simply wants to create a completely new flavor, the new program will accommodate these needs. This new flexibility is a welcome addition for many retailers, and the company is continuing to expand their program based on customer feedback. With over 600 SKUs for their popular line of products, they stated that adding more products to their line is still not a problem, and they welcome new additions to their family of popular pastries. The company is also focusing heavily on no sugar added, and gluten free selections that will help a broader base of customers to experience their products. For more information, please visit: http://www.rockymountainpies.com.