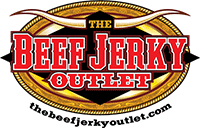 Beef jerky is their favorite, but they also love wild game, jerky sausages and other snacks to go. The drivers and pit crew really stock up
Seymour, Tennessee (PRWEB) June 10, 2013
The Beef Jerky Outlet in Dundee, Michigan is thrilled to welcome NASCAR fans and crew for the June 2013 races at the Michigan International Speedway. The Beef Jerky Outlet Franchise is a national retail franchise specializing in beef, turkey, and wild game jerky, along with premium snack foods.
Steve Lyons, store manager of the Dundee Beef Jerky Outlet, said, "We are revving up and getting ready this year for a huge surge in traffic with NASCAR fans and crew – we are really expecting a lot of activity during the races."
Mo Kassem, the store's co-manager, said racing fans flock to the store looking for snacks to take with them to the track.
"Beef jerky is their favorite, but they also love wild game, jerky sausages and other snacks to go. The drivers and pit crew really stock up," Mo said.
The Beef Jerky Outlet Dundee store is located at 109 Cabela Blvd. East, right across 230,000- square- foot outdoor superstore. The location naturally attracts fans and crew members hungry for the Great American Snack: beef jerky. The store also offers flavored popcorns, deep fried peanuts, peanut brittle, unique candies and other classic American snacks..
The Dundee store location is in line with the Beef Jerky Outlet Franchise plan for placing outlets in the vicinity of busy events and venues.
"Cabela Blvd. is just off M-50 which is the main route to the speedway, just up the road in Brooklyn, Michigan. Customers and crew drop into the store coming and going from the track," Steve said.
The Dundee store has created an exceptional showcase for the Beef Jerky Outlet Franchise concept by creating a welcoming and friendly environment for everyone. Steve, Mo and all the store employees invite everyone into the store to sample any of the jerky or specialty snacks.
Walking into a Beef Jerky Outlet store, first-time customers are always surprised by the limitless selection of flavors. The bulk jerky is set out in authentic covered barrels for sale by the pound, for jerky-enthusiasts to scoop up like kids in a candy shop. Beef Jerky Outlet "barrel style" jerky is famous in the jerky industry for its authentic flavors and tender texture. The flavors include everything from original to blazing hot to jalapeno and honey barbeque.
About The Beef Jerky Outlet:
The Beef Jerky Outlet is a Tennessee-based company focusing on elevating jerky of all kinds to culinary status. It offers a large selection of jerky in various flavors made from beef, turkey and wild game. The Beef Jerky Outlet stores present excellent retail franchise opportunities for investors seeking a business with high margin returns on moderate start-up costs. To find out more, visit our website at http://www.beefjerkyoutlet.com.
BEEF JERKY OUTLET FRANCHISE, INC.
P.O. BOX 575, Seymour, TN 37865
Phone: (586) 246-5405
Fax: (866) 876-3626
Franchise(at)thebeefjerkyoutlet(dot)com