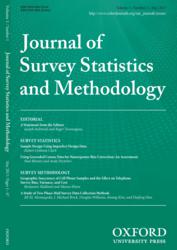 (PRWEB) June 07, 2013
Oxford University Press is pleased to announce the publication of the Journal of Survey Statistics and Methodology (JSSAM), sponsored by the American Association for Public Opinion Research (AAPOR) and the American Statistical Association (ASA). The journal, available in print and online today, is edited by Joe Sedransk, Professor Emeritus of Statistics at Case Western University, and Roger Tourangeau, Vice President at Westat.
JSSAM's objective is to publish cutting edge scholarly articles on statistical and methodological issues for sample surveys, censuses, administrative record systems, and other related data. While articles on survey statistics and methodology have traditionally been scattered across journals of different disciplines, JSSAM will be devoted solely to survey statistics and methodology. JSSAM appears at an interesting time in the field – funding for surveys faces budget cuts and survey response rates are down. At the same time, survey methodology has matured to a full-fledged discipline, and surveys are still critical to various industries and policy decisions. The 2012 election, for example, was uncannily predicted by surveys.
Through studies of survey sample design, statistical inference, nonresponse, measurement errors, disclosure limitation and more, JSSAM will strengthen the field with both theoretical and applied papers.
Read a Q+A with the editors on the OUPBlog: http://blog.oup.com/2013/05/new-journal-survey-research
Visit the journal: http://www.jssam.oxfordjournals.org.
For more information or to request access, please contact:
Alana Podolsky
Publicity; Oxford University Press
212-726-6033; alana(dot)podolsky(at)oup(dot)com