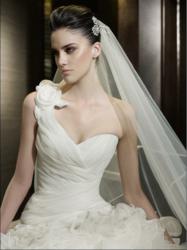 Angel Wears new line of affordable prom, cocktail party, and bridesmaid dresses is now available exclusively on their website at http://www.angelwears.com.
Cerritos, CA (PRWEB) June 06, 2013
Angel Wears, one of the nation's largest online formal dress wear dealers, is now offering a brand new line of formal dresses priced under $99.00. The new line of dresses, available exclusively on their website, includes prom dresses, bridal party dresses, cocktail dresses, and many other formal wear choices. Angel Wears offers more than a thousand designs to fit every need, ranging from weddings, proms and formals, evening affairs, quinceaneras, pageants, and parties, formal and informal. Angel Wears' full selection of discounted formal wear can be viewed and ordered at http://www.angelwears.com.
Every bride wants her bridal dress and her bridal party to be stunning, memorable and unique, and Angel Wears' extensive collection is sure to offer scores of designs that are not available from local retailers or bridal shops. Angel Wears is not only a go-to option for lavish weddings, it is also a practical option for second-time brides who are planning less elaborate, smaller scaled ceremonies. The repeat bride naturally wants to look stunning when she walks down the aisle also, but she may be looking at her wedding with a more practical, cost conscious eye. Angel Wears is the perfect one-stop shopping site for her and her wedding party with its extensive selection of beautiful yet affordable gowns and dresses.
All members of the wedding party can be outfitted at Angel Wears, including the mother of the bride or groom, the groom and his attendants, and children, including shoes and complementary accessory items. The online selections also include a full line of christening and baptism gowns for infants.
Angel Wears' inventory offers more than 100 styles for $99 or less, in all styles, for all occasions. There is also an extensive selection of elegant designs offered in big or plus sizes, as well as dresses for misses, teens, and children.
Women searching for the perfect dress for a formal party or evening affair have more than a hundred different styles to choose from, in sizes and price ranges to fit all needs. Angel Wears is also the place to shop for short party dresses, formal suits, and print dresses for informal parties or gatherings.
Prom and homecoming dress shopping is easy at Angel Wears' Hip Hop Boutique web site, where nearly 150 different dresses, starting below $80, are on display. HipHopBoutique.com has a huge selection of prom dresses and homecoming dresses to fit all interests, ranging, for example, from a sexy short red prom or homecoming dress to an eye catching yellow or hot pink dress or an alluring long black prom or homecoming dress. Angel Wears also is the place to shop for eveningwear for pageant events.
All of the hundreds of dresses and other garments offered at angelwears.com and hiphopbotique.com are priced far below retail prices. The online shopping sites have offered quality merchandise at discount prices since 1989, while maintaining a Five-Star rating for their superior products and services from Yahoo.