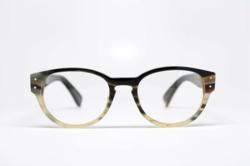 Pittsburgh, PA (PRWEB) June 11, 2013
Penn Avenue Eyewear (PAE), a company dedicated to providing stylish, quality prescription eyewear, announces the launch of its Buffalo Horn Frame Collection. This launch coincides with the redesign of the company's website at http://www.pennavenueeyewear.com.
Traditionally, horn eyewear has been a favorite of bespoke frame manufacturers with limited availability to mainstream consumers. By working closely with horn suppliers, PAE has been able to put together a collection at a price point that will make real horn eyewear available to a much broader audience.
Because the frames are made from real horn, each has a unique color pattern. Accordingly, PAE has created eight color classifications for each design in an effort to assist customers in obtaining a frame with their favorite color shade. PAE is also launching a free "at home try on" program that will enable customers to preview up to five frames and make their selection in person.
Available in six classic designs, the frames in the Buffalo Horn Collection are offered at an introductory price of $245 after using a special promotion code "HORN50". This code will provide $50 off the $295 retail price. As with PAE's Acetate Collection, all frames include premium single vision lenses along with a case and microfiber cleaning cloth.
Joseph Zewe, President of PAE commented, "This price point is unheard of for real horn eyewear. Typically, frames of this quality are sold for $500 to over $1,000. We have been working closely with our manufacturer to deliver an amazing value for our customers. Each frame is made from the best materials and includes the details you would expect from a high end frame."
Along with the launch of the new frame line, Penn Avenue Eyewear has also redesigned its website and introduced a new lifestyle blog to reflect the personality and identity of the brand.
ABOUT PENN AVENUE EYEWEAR - Penn Avenue Eyewear is an independent eyewear company that provides prescription glasses and non-prescription sunglasses both online and through a network of selected retailers who sell PAE frames with their own lens packages. Unlike other online eyewear companies, Penn Avenue is committed to providing unique designs and distributing both online and through independent optical retailers.