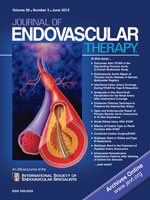 Among the 55 patients treated with this type of stent, aneurysm-related survival was 93.7 percent after 1 year.
Phoenix, AZ (PRWEB) June 07, 2013
The continuing quest for less invasive procedures to treat aortic diseases has found new promise in a multilayer flow modulator stent. This new technique has been used as treatment for thoracoabdominal aortic aneurysm (TAAA) in 243 patients enrolled in a worldwide registry. One-year results for the first 55 patients show excellent potential, with both survival rates and technical success well above 90 percent.
The current issue of the Journal of Endovascular Therapy presents a retrospective review of this first subgroup of patients treated with this stent. Although this technique is still in the early stages of study, it could offer a substantial improvement over open surgical and other endovascular procedures.
Typical treatment for TAAA is surgical repair—removing the dilated portion of the aorta and inserting a synthetic tube as a "patch." Less invasive endovascular repairs offer alternatives. Fenestrated and branched endografts—covered stents with openings, or branches, that direct blood to vital organs—allow high-risk patients to avoid open surgery.
However, the current techniques for these more complex stent-graft repairs produce the best results only when performed at high-volume, specialist medical centers. Studies have shown similar outcomes for both types of treatment in terms of mortality and paraplegia rates. The fenestrated and branched technology also involves high costs and significant time delays between design and implantation.
Multilayer flow modulator stents offer a simple, easy-to-deploy treatment that is minimally invasive—appropriate for high-risk patients. The stent modulates blood flow by channeling it to native side branches and slowing the flow vortices within the aneurysm sac. It treats the aneurysm rather than excluding it.
Among the 55 patients treated with this type of stent, aneurysm-related survival was 93.7 percent after 1 year. None of the patients had to be admitted to intensive care, and none of them experienced paraplegia, visceral or renal artery occlusions, or major postoperative bleeding. By the end of the first year, the rate of aneurysm sac volume increase had slowed to 0.28 percent per month.
As an accompanying commentary notes, if these results also hold true for the mid and long term, there might be less of a need for any other treatment for TAAA. However, it will take time and further investigations before such a conclusion can be reached.
Full text of the article, "One-Year Results of the Multilayer Flow Modulator Stent in the Management of Thoracoabdominal Aortic Aneurysms and Type B Dissections" and commentary article, Journal of Endovascular Therapy, Vol. 20, No. 3, 2013, are now available.