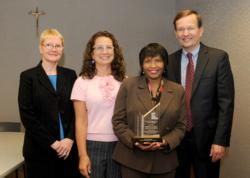 This award acknowledges the progress we're making to help our employees live healthier lives.
Youngstown, Ohio (PRWEB) June 10, 2013
Humility of Mary Health Partners has earned the WELCOA Well Workplace gold designation for 2013. This national recognition from the Wellness Council of America places HMHP among 16 employers throughout the country and the only employer in Ohio to receive recognition this year.
HMHP received the gold designation, which identifies employers that have successfully developed comprehensive wellness initiatives in the workplace and are documenting concrete outcomes.
"Achieving this designation required a lot of effort," says Patty Melnykovich, HMHP employee health, wellness and safety officer. "We had to document everything so that the Wellness Council could assess the effectiveness of our employee wellness initiatives and are very pleased with the outcome. This award acknowledges the progress we're making to help our employees live healthier lives. As a health care provider, we know the effect healthy lifestyles have on improving a person's quality of life and we want all of our employees to have the best quality of life possible."
According to WELCOA guidelines, Well Workplace employers fully embrace their responsibility for maximizing the health and well-being of employees and integrate wellness into the overall business strategy.
The Wellness Council of America measures the effectiveness of employee wellness programs against seven benchmarks:

Support of the chief executive officer
Cohesiveness of the wellness team
Collection of data to drive health efforts
Development of an operating plan that defines program goals
Selection of appropriate interventions
Creation of a supportive environment
Consistent evaluation of outcomes
HMHP earned a perfect score for four of the benchmarks and an overall score of 177.49 points out of a possible 180.
"We're very happy to be recognized by the Wellness Council of America as an employer that makes the health and wellness of our employees a priority," observes Bob Shroder, CEO. "As health care providers we're accustomed to doing the best thing for our patients, but as individuals we don't always take the best care of ourselves. Through our health and wellness initiatives here at Humility of Mary Health Partners, we help our employees take better care of themselves. Whether it's helping them become more active and lose a few pounds, manage stress or stop smoking, we want to encourage, support and in some cases, reward them for their accomplishments."
"From CEO support to evaluation of outcomes, Humility of Mary Health Partners has demonstrated that it has successfully met the requirements to achieve this important designation," says David Hunnicutt, president, Wellness Council of America. "We're pleased to welcome HMHP into an elite cadre of organizations who have achieved this designation."
About Humility of Mary Health Partners:
Humility of Mary Health Partners is an integrated health system located in the Youngstown/Warren area. It is a region of Catholic Health Partners (CHP) in Cincinnati, the largest health system in Ohio and one of the largest Catholic health systems in the United States. HMHP provides a full spectrum of health care services, including inpatient, outpatient, emergency, urgent care, home care and long-term care. Members are St. Elizabeth Health Center, St. Joseph Health Center, St. Elizabeth Boardman Health Center, HM Home Health Services, The Assumption Village, Humility House, Hospice of the Valley and Laurel Lake. Learn more about HMHP online at http://www.HMpartners.org. ###