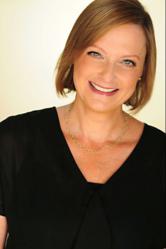 I've found that social media is an effective way to interact with today's college-bound generation,
Seal Beach, CA (PRWEB) June 11, 2013
Jodi Okun, founder and president of College Financial Aid Advisors (CFAA) was ranked fourth on the Top 99 Twitter Accounts Covering Financial Aid list, compiled by Scott Hawksworth, founder and editor of YesCollege.com. Okun uses her Twitter feed, @JodiOkun, to provide an information stream that helps students learn about college financial aid. She also organizes and hosts the highly acclaimed #CollegeCash weekly live chat session which she presents on Thursdays at 10 p.m. EST/7 p.m. PST.
Hawksworth reviewed tweets from the huge financial aid expert community, lending organizations, and advice from college financial aid offices. He found that Twitter is a great place to learn about financial aid, from the #FAChat hashtag to the information tweeted daily by the government's official @FAFSA account.
Because of the relevance and value of her Tweets, Okun (@JodiOkun) ranked fourth, only behind @FAFSA, from the Federal Student Aid site; @NYTimesCollege; and @nasfaa, from The National Association of Student Financial Aid Administrators. Hawksworth reported that Okun's Twitter account looks at different financial aid information and provides topical advice on an array of issues.
#CollegeCash targets parents of students heading to or enrolled in college to help them receive the best possible guidance for financial aid planning. Learning the ropes from an experienced professional ensures families receive maximum financial assistance so students can attend the school of their choice. Okun hosts #CollegeCash featuring a new topic each week. Participants interact with guests from varied backgrounds and share with others in the live Twitter stream. This helps parents and students learn how to plan successfully for college.
"I've found that social media is an effective way to interact with today's college-bound generation," concluded Okun, who also speaks on the topic of financial aid and has regularly appeared on talk shows. "I use Twitter, a blog, Facebook and an e-newsletter to keep in touch, provide information about the college financial aid process, and help students realize their college dreams. There is a lot of information that can be very confusing and it's my job to do whatever is necessary to help these students get the best possible financial aid package."
College Financial Aid Advisors is located in Seal Beach, CA, but works with students from around the country. Further information may be obtained at http://www.collegefinancialaidadvisors.com or by calling 562-598-1162. Okun is also starting a Certified College Financial Aid Advisor™ program, to train others to work with high school and college students.
Jodi Okun
College Financial Aid Advisors
T: (562) 598-1162
F: (562) 430-4334
E: jodi(at)collegefinancialaidadvisors(dot)com
http://www.collegefinancialaidadvisors.com