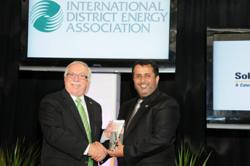 Miami, FL (PRWEB) June 06, 2013
The International District Energy Association (IDEA) presented the first IDEA Annual Innovation Award to Empower on June 4 during ceremonies at the association's 104th Annual Conference & Trade Show in Miami, FL. The new IDEA Annual Innovation Award program showcases examples of technology, engineering and operational innovation within the district energy industry and accelerates information exchange that will allow the innovations to be communicated and applied more widely around the world.
A panel of IDEA member judges selected Empower as the inaugural winner of this award for their effective use of Treated Sewage Effluent (TSE) in combination with a reverse osmosis (RO) process to optimize the efficiency of their large district chilled water plants and to minimize the use of valuable potable water by testing a series of blended proportions to maximize the water savings.
"The review committee had a difficult process in evaluating many outstanding examples of innovation in the district energy industry, which are available at http://www.districtenergy.org/idea-annual-innovation-award/. Empower was ultimately selected as the winner based on the economic and environmental benefits, the quality of their submittal including depth of detail, and the applicability of their innovation in communities around the world," according to IDEA President & CEO Robert P. Thornton.
"Empower is very pleased and honored to accept the IDEA Innovation Award in recognition of the excellent work of our engineering and operations team. We are committed to the ideals of IDEA in spreading best practices and exchanging innovative solutions that enhance the ability of the district energy industry to serve our cities and communities with cleaner, more efficient energy," commented Ahmad Bin Shafar, CEO of Empower.
"As you can imagine, with the cost of raw water at ten times the cost of TSE in the city of Dubai, it is very important for a provider like Empower to demonstrate effective use of TSE and other treated water to help the Emirate conserve water without negatively impacting the operation or the safety of the district cooling system. Empower's willingness to share their process in optimizing the blending of 80% RO water with 20% TSE will be useful to the entire district cooling industry, especially in the Middle East where water is very scarce and valuable, but also around the world as we all learn to conserve precious resources and deploy technologies like district cooling that will be increasingly important in a more urbanized, populated world in the future," said IDEA Innovation Award Committee Chairman Joseph Brillhart, Director of Global Industrial Chillers at Johnson Controls and current IDEA Chair.
IDEA is an independent, non-profit industry association formed in 1909 with headquarters in Westborough, Massachusetts that currently represents the interests of approximately 1800 members worldwide involved in operation, design, construction and optimization of district heating, district cooling and CHP (cogeneration) systems, with a majority of members in North America, as well as Europe, Middle East and Asia Pacific.