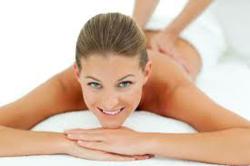 We do what we do well: massage. Our staff of nationally certified, VA licensed massage therapists are committed to providing the best services possible.
Washington DC (PRWEB) June 07, 2013
Commonwealth Massage was awarded the "Best of the Best" designation for excellence by Follow Media Consulting, Inc. in the category of Massage in Manassas. This award signifies the continued commitment and dedication of the area best in massage therapy services.
Commonwealth Massage is one of the newest massage centers in the Manassas, VA area, which is located on the third floor of Gold's Gym, in 9705 Liberia Ave. Manassas, VA. This is the newest place in town where you can relax, rebuild, and recover with one of a kind therapeutic massage.
Bob Rawlins of Gold's Gym Manassas and Jodi Scholes of the Business of Bodywork believe in high quality and professionalism and founded the Commonwealth Massage. Having owned and operated a massage center for 14 years, Jodi Scholes says, "I simply wanted to enhance the lives of those people we touched by helping them achieve their physical, mental, emotional and spiritual goals thru the vehicle of massage therapy."
After working with thousands of people a year, Ms. Scholes understands what clients want and need. In 2008, Ms Scholes sold her massage practice and began consulting with professionally minded massage therapists to grow and strengthen their businesses. Invited by Bob Rawlins, also the owner of Gold's Gym Manassas, Ms. Scholes brings her expertise to Commonwealth Massage to create an incredible organization for the Gold's Gym members and others.
Feel energized and renewed at Commonwealth Massage! Located on the 3rd floor at Gold's Gym Manassas they offer different kinds of massage services. Their unique services ensures clients get the highest quality massage and know why Commonwealth Massage is highly recommended in their town. They also offer everyday massage specials, both for singles or groups with different packages. Call them at (703) 369-7700 to set up an appointment or visit their website at http://www.commonwealthmassage.com/ for a chance to get a promo or gift certificates.
About Follow Media Consulting, Inc.
Named one of the best SEO companies by Jonas Marketing, Follow Media Consulting, Inc. is a rapidly growing worldwide firm of SEO, Social Media, and Mobile Marketing Professionals. Follow Media Consulting, Inc. headquarters is located in Richmond, VA. However, our professional team is networked across the world, with regional offices across the United States, in the United Kingdom, Canada, Australia, France, South Africa, the Philippines, and India.