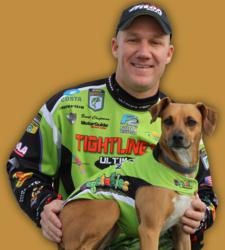 Onalaska, Wisconsin (PRWEB) June 07, 2013
Bassmaster Elite Series Angler of the Year Brent Chapman and his dogs Penny & Mitsy will be making an appearance at the Onalaska, Wisconsin PetSmart on June 13th at 10 AM. Bring your favorite fisherman and your favorite dog for autographs and free Pegetables dog chews sampling.
Chapman will be in Wisconsin for the Bassmaster Elite Series La Crosse, Wisconsin tour stop where he will be fishing with 100 of the best anglers in the world on the Mississippi River. Chapman finished in 22nd on the mighty Mississippi last year in route to his first Angler of the Year Title. Chapman has four total tour victories and 31 top-ten finishes in his 18 year professional bass fishing career. During that time he has amassed almost $2 million in career earnings and has qualified for the Bassmaster Classic twelve times.
Pegetables dog treats are premium dental dog chews made with natural vegetables including carrots, corn and celery. Pegetables are enriched with antioxidants, complex carbohydrates, omega fatty acids, amino acids, protein, fiber, vitamins and minerals. Pegetables are clinically proven to significantly reduce plaque and tartar build-up in dogs, which results in fresher breath!
The address for the appearance is 9342 State Highway 15, Onalaska, Wisconsin. The Chapman's will be there from 10AM to 12PM signing autographs and providing dogs with Pegetables samplings. Grab an angler and a dog and come meet Brent, Penny and Mitsy Chapman.