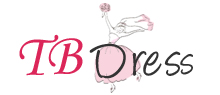 (PRWEB) June 07, 2013
Recently, TBdress.com, a well-known women's dress firm, has released its 2013 flower girl dress collection. Today, the company announces its special offer on all its flower girl dresses, and the promotion will be valid until June 15, 2013.
TBdress.com is well-known among ladies worldwide for its quality dresses at affordable prices. The company is providing a wide range of wedding dresses, Quinceanera dresses, prom dresses, bridesmaid dresses, and more. In TBdress.com's opinion, flower girl dresses are as important as wedding dresses, so that it goes without saying that the flower girl dresses have to look beautiful on her special day.
All the people from TBdress.com are well-trained to deal with the possible shopping wave in the next few days, and all customers can now find their favorite dresses with affordable prices at TBdress.com.
Edmond Liu, a spokesman for the company, reminds that the promotion is valid for two weeks only, ending on June 15, 2013. Now, TBdress.com has more than 400 items of flower girl dresses in stock, and that will be enough for any picky customer.
TBdress.com is one of the most popular suppliers of women's dresses. It supplies clothes in more than 230 countries worldwide and owing to its high quality and cheap rates; it is ranked as one of the leading vendors. TBdress.com stands to be one of the best online shops for buying fashionable wedding dresses and wedding lingerie. In addition to this, the company also offers attractive discount deals on the majority of its products.
Their website can be visited at http://www.tbdress.com.