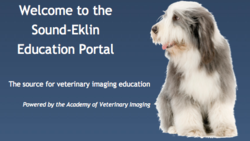 " Whether you are new to ultrasound, or need a quick refresher, we are furthering our commitment to the veterinary community by offering mini-courses and ultrasound knobology, in our Education Portal." Joyce Holt, Director of Academy of Veterinary Imaging
Carlsbad, CA (PRWEB) June 11, 2013
Sound-Eklin, the Global Veterinary Imaging Leader is now launching its Veterinary Ultrasound Education Portal to ease the ultrasound learning curve.
Veterinary Ultrasound requires hands-on training with experts to master. The Education Portal's mini-courses are an introduction or refresher of popular courses taught at Sound-Eklin's Academy of Veterinary Imaging such as Introduction to the FAST Exam with Gregory Lisciandro, DVM, Dipl. ACVECC or Introduction to Veterinary Ultrasound and the Big 5 with Robert Cole, DVM, DACVR, both board certified specialists.
Sound-Eklin's Veterinary Ultrasound Education Portal provides veterinarians and technicians with an on-demand video library of mini-courses, which serve to refresh skills and introduce new techniques to maximize ultrasound use and confidence in the veterinary imaging practice.
Sound-Eklin's Education Portal is currently complimentary and can be found at education.soundeklin.com
Based in Carlsbad, California, Sound-Eklin produces the most widely accepted and used digital radiography, ultrasound and PACS systems in the veterinary industry. Sound-Eklin holds leadership positions in Ultrasound, Digital Radiography, and Education. Sound-Eklin's Academy of Veterinary Imaging has conducted over 9,000 student trainings.
Sound-Eklin is a division of VCA ANTECH, INC., and is dedicated to the field of veterinary imaging and education. VCA ANTECH also owns, operates and manages the largest network of freestanding veterinary hospitals and veterinary-exclusive clinical laboratories in the country and employs approximately 12,000 professionals throughout North America. To contact Sound-Eklin, call 1-800-268-5354 or Mike McElroy, Director of Market Development. Visit SoundEklin.com.