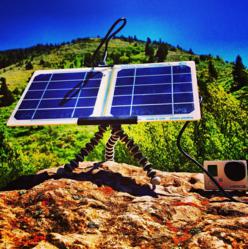 San Jose, CA (PRWEB) June 09, 2013
CaseyLavere, a YouTube personality, reviewed the Suntactics sCharger-5 Compact Solar Charger during a bear hunting expedition in Oregon. The backcountry hunter and daily blogger has over 145,000 YouTube Subscribers and over 16 million YouTube views from two channels combined.
Adventure hiking and hunting with a dead battery in a GPS or smartphone could spell disaster in an emergency situation, Suntactics sCharger-5 helps keep batteries on mobile devices charged by using solar power.
In the video, Casey shows how the sCharger-5 works in the backcountry. Casey not only is an experienced hunter but also a popular comedian on YouTube. The CaseyLavere channel currently has over 123,956 YouTube subscribers and over 15 million YouTube views. CaseyLavere also owns a hunting and fishing channel called HushinWithLavere on YouTube with 123,956 subscribers and 1.3 million views.
CaseyLavere is also the brother of one of the biggest YouTube personalities online, Shay Carl. Shay Carl has a daily vlogging family channel on YouTube called The ShayTards, one of the most popular YouTube families on the internet. The channel has passed over 600 million YouTube views and has over 1.2 million subscribers.
About Suntactics
Suntactics focuses on portable solar and off grid solar energy products. Their current product is the sCharger-5, a 5-watt power supply being used by customers for a wide range of mobile devices. Its simplicity in design makes it hassle-free and easy to use, just plug in your device and it starts charging instantly. The units are manufactured locally at Fastrak, a veteran owned contract manufacturer. Suntactics is located in San Jose, CA.
Additional information: Suntactics sCharger-5 Solar Charger