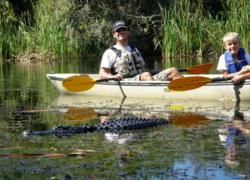 From a Brooklyn Brewery Dad's Dinner to an alligator tour, these experiences are curated to satisfy Dad's cravings for adventure and great food.
Miami, Florida (PRWEB) June 07, 2013
Hotels from the Caribbean to the continental USA are celebrating Father's Day with offers that will seize Dad's day. From a Shark tourney in Montauk to a Brooklyn Brewery Dad's Dinner at Gloria & Emilio Estefan's Costa d'Este Beach Resort & Spa to an alligator tour of the Everglades, these experiences are curated to satisfy Dad's cravings for adventure and great food. Special packages include:
Lemon Tree Inn, a boutique hotel in Naples, Florida, offers a Gator Getaway that brings Dads up close and personal with the Everglades and all the creatures that live in this National Park. Alligators, crocodiles, sharks and more than 400 species of birds and dozens of endangered species call this part of the world home. The Gator Getaway packages offers a scenic four-hour kayaking excursion through the Everglades with the experienced and trained team of professional guides from Everglades Area Tours, an outfitter based in Everglades City approximately 35 minutes from Naples, Florida. The two-night package for two-people includes accommodations and a kayaking excursion through the Everglades. Now through December 14, 2013, the Gator Getaway Package is $440 for two nights, double occupancy. The package is $560 December 15 through April 14, 2014. Gratuities, transfers and taxes not included. To book a stay at Lemon Tree Inn call 888-800-LEMO (5366).
Montauk Yacht Club Resort & Marina is reeling Dads in with the 27th Annual Shark Tournament taking place on June 14-15. Cash prizes will be awarded for the heaviest shark each day and tournament-wide. The top three prizes will also be awarded for the Heaviest Mako, Heaviest Blue Shark and Heaviest Shark of other species.
In 2012, more than $550,000 in cash and prizes were paid out to the winners. In addition to this exciting competition, all anglers can help contribute to marine life study by tagging, and then releasing, sharks back into the ocean that do not meet strict weight requirements. Such tags will allow researchers and conservationists to better understand the sharks' habits and migration patterns, without causing any harm to the sharks. Last year, more than 250 sharks were released back into the ocean. Of the sharks that were weighed in, more than 750 pounds of edible shark meat was donated to the Long Island Council of Churches' food pantry to help feed those in need.
Entry fee is $1,000 per boat. Those who register before April 15 will be eligible for a chance to win a $500 gift certificate from the Star Island ship's store. Montauk Yacht Club has accommodations available starting at $499 per room, per night and slip rates for this weekend are $5.50 per foot, 40 foot minimum. Dockage is available on a first-come, first-serve basis. For more information, please visit http://www.montaukyachtclub.com or call 888-MYC-8668.
At Gloria & Emilio Estefan's Costa d'Este Beach Resort & Spa in Vero Beach, Florida, Chef Antonio Estremera and his team have joined forces with Brooklyn Brewery to create a perfectly paired dinner perfect for celebrating Dad. Featuring Sriracha White Fish Ceviche, Lobster Mac n' Cheese, and Mojito Lamb Chops with Maple-Whiskey Sweet Potato Hash, plus an Imperial Stout Beer Float for desert. If that weren't enough Costa d'Este is offering a Sip & Sleep rate starting at $119 a night so Dads can take the elevator home. The Brooklyn Brewery Dad's Dinner is $65 per person, on Wednesday, June 12, 2013 at 6:00 pm. Limited seating available call now to reserve 772-410-0100 or book online at costadeste.com.
Hotel Viking in Newport, Rhode Island is home to the popular Top of Newport, the hotel's rooftop lounge. On Father's Day, Top of Newport which will be having a Father's Day special of Steak & Ribs with Draft Beer for only $19 per person. Reservations highly recommended, as space is limited. For details, call Hotel Viking at (401) 847-3300, 800-556-7126 or visit http://www.HotelViking.com
At Hotel Caravelle on St. Croix, US Virgin Islands all Dad's can dive into the Caribbean Sea with Hotel Caravelle's special "3 Nites for $300" offer valid now through October 23, 2013, a savings of more than $40 over the rack rate per night. This boutique seaside hotel on the island of St. Croix, US Virgin Islands, is just steps away from SCUBA diving boats, fishing charters and even sailboats. Taxes and excursions are additional. To book a stay at Hotel Caravelle, visit HotelCaravelle.com or call 800-524-0410.
The Landings in St. Lucia is offering a special family savings this summer which includes a 50% discount on Luxury Suites, two free nights when seven nights are booked, one 50-minute beachside massage, 3-hours of babysitting service per day and children under 12 dine for free. To book the Hot Summer Sale, visit TheLandingsStLucia.com or call 866-252-0689.
All offers are only valid on new reservations and are subject to availability, black-out dates and cannot be combined with any other offers or promo. Call the individual hotel for details and bookings.