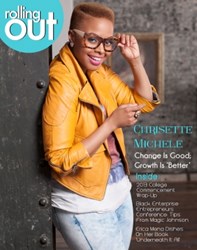 God is good.
Atlanta, GA (PRWEB) June 06, 2013
In this week's cover story, singer Chrisette Michele is refreshed and renewed.
The release of her new album, "Better," comes three years after her previous LP, 2010's "Let Freedom Reign." That lengthy hiatus was just a case of her needing to take care of herself for a little while.
"Better in this particular moment means that I can get through anything," Chrisette Michele explains. "I've been through the industry and all of its crazy ups and downs. I've put together an incredible album. I have a beautiful home and cars. I have a beautiful family that's well fed and taken care of. That just means to me that God is good."
She asks, "Without faith, what are you working toward? What [do you] believe in? What do you think is going to happen tomorrow that hasn't happened yet? What are you excited about?"
Visit rollingout.com to read the interview in its entirety and get all the details about the chanteuse. Be sure to check out the exclusive photo shoot and video footage with celebrity photographer DeWayne Rogers.
About rolling out Magazine:
Rolling out, the nation's largest free urban weekly, is a digital and print magazine that focuses on the black experience in response to entertainment, politics, fashion, culture, sports and lifestyle points of interest. Headquartered in Atlanta, rolling out is positioned as the voice for the African American experience, using its newspaper as a platform in the marketplace to express urgency for education reform, and to document entrepreneurial endeavors and other relevant issues in the Diaspora. For information on rolling out, please log on to rollingout.com.