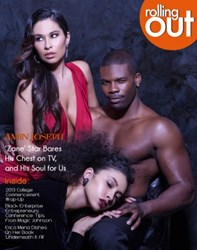 This is definitely a bold career choice for any person.
Atlanta, GA (PRWEB) June 07, 2013
His swagger was unmistakable. When Amin Joseph walked through the doors of our posh Los Angeles photo studio for his exclusive photo shoot with 'rolling out,' he carried with him the confidence of a man secure with his current lot in life. At the time of shooting, Joseph was preparing to be a leading man in the latest Cinemax series, "Zane's The Jump Off." The prospect of that new series, as well as his turn in "GI Joe: Retaliation," had Joseph feeling pretty confident about his place in Hollywood.
"My mother told me to keep my shirt on, but I had to tell her that I was taking off a little bit more than my shirt," Joseph jokes. "This is definitely a bold career choice for any person. This is a business that ebbs and flows, and you have to be able to embrace it. "
Visit rollingout.com to read the interview in its entirety and get all the details about the Hollywood hunk. Be sure to check out the exclusive photo shoot and video footage with celebrity photographer DeWayne Rogers.
About rolling out Magazine:
Rolling out, the nation's largest free urban weekly, is a digital and print magazine that focuses on the black experience in response to entertainment, politics, fashion, culture, sports and lifestyle points of interest. Headquartered in Atlanta, rolling out is positioned as the voice for the African American experience, using its newspaper as a platform in the marketplace to express urgency for education reform, and to document entrepreneurial endeavors and other relevant issues in the Diaspora. For information on rolling out, please log on to rollingout.com.