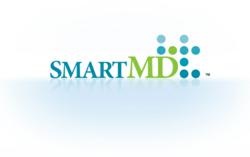 Helping doctors work smarter, not harder.
Fort Lauderdale, FL (PRWEB) June 21, 2013
SMARTMD announces the launch of SmartPAY, its online billing solution that enables medical practices to electronically send statements to patients for online payment. Integrated with SMARTMD's Practice Management Software, SmartPAY provides a complete solution for revenue cycle management to increase collections, improve cash flow, and reduce operating costs.
Medical practices that enroll in SmartPAY will receive a personally branded online payment portal that is populated with their patient statements. Patients receive email notifications of their outstanding bills with instructions on how to log into the portal, view their statements and make payments with any electronic payment method they choose. Medical practices using SmartPAY will receive payment within 24 to 48 hours.
Using the SmartPAY platform, medical practices shrink the time to collect on patient balances from weeks to hours by eliminating the time wasted in the traditional print statement process. Patients are electronically presented invoices immediately after balances are due, and they can be reminded as often as needed, without any postage costs. Payments are verified and deposited directly into the bank, avoiding the time, effort, and risks associated with staff handling paper checks which can be lost, stolen, or simply bounce by the time they are deposited. Using SmartPAY, a practice can increase collections, while saving as much as $2,000 a month in labor and postage.
SmartPAY is available to existing and prospective new users of the SMARTMD Practice Management System version 4.1. Product demos are available upon request. For a limited time, SMARTMD is offering special pricing on SmartPAY. "With the increasing popularity of high deductible plans, and patients responsible for as much as $1 in every $4 of medical fees, it is becoming critical for practices to efficiently collect from their patients. We're excited about SmartPAY because it immediately reduces the time to collect payment from patients, which is critical for our customers to help avoid cash flow problems," says Nandip Kothari, CEO of SMARTMD. More information is available at http://www.smartmd.com.
SMARTMD has partnered with Singular Payments to power its SmartPAY online billing solution. Singular Payments is a leader in the payments arena and has established a reputation for providing cutting edge payment solutions for merchants that save money and are easy to understand.
For more information, contact Nandip Kothari at 855-SMARTMD or http://www.smartmd.com.
About SMARTMD
Founded in 1999, SMARTMD is a leading provider of productivity applications and business services for the healthcare industry. Their products and services assist practices in streamlining operations, reducing expenses, and complying with industry regulations enabling physicians to dedicate more time to providing quality care for their patients. SMARTMD currently serves over 1000 physicians across 39 states.
About Singular Payments
Singular Payments is a leading merchant services provider within the medical, dental, veterinary, and specialty retail verticals. Founded in 2009, they process nearly $1 billion in credit and debit card payments for its clients conducting business across the U.S. http://www.singularpayments.com
For media inquiries, contact Vaden Landers at 877-829-2170, x. 7008