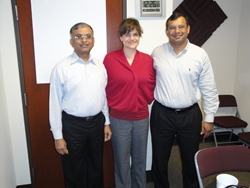 At TiE, Talent, ideas, Enterprise define the core values...
Atlanta, GA (PRWEB) June 07, 2013
On June 3, 2013, co-hosts Lee Kantor and Stone Payton of BusinessRadioX®'s Atlanta Business Radio welcomed to the studio Madhu Madhusudan, Raj Rajan and Katie Elizabeth for a roundtable discussion about TiE Atlanta.
The IndUS Entrepreneurs (TiE) is a global, not-for-profit organization created for the advancement of entrepreneurship. At TiE, Talent, ideas, Enterprise define the core values in building the Entrepreneurial Ecosystem. Entrepreneurs, Corporate Executives and senior professionals with roots or interest in the Indus region charter this organization. TiE membership is open to all with the explicit goal to benefit entrepreneurs.
First to join the discussion was Madhu Madhusudan, founder and CEO of VectorSpan Inc., an enterprise focused on enabling companies to plan their growth/exit strategy, engineer inorganic growth and make cross border transactions and integration successful. Madhusudan is also the President of TiE Atlanta and has served as Chairman of the Board of the Georgia Indo-American Chamber of Commerce (GIACC). According to Madhusudan, "As a Charter Member [of TiE], the biggest benefit for me has been the variety of people I meet." Madhusudan explained that TiE began in Silicon Valley and has over 65 chapters world-wide.
Palaniswamy "Raj" Rajan is the co-founder, Chairman & CEO of Virima Technologies, Inc., an IT Operations and Datacenter software developer serving the fortune 5000 companies. He brings more than 15 years experience in the technology industry and combines a deep understanding of current technologies with the ability to articulate the application of these technologies in various business contexts and models. Rajan co-founded and serves on the Board of Directors of the Atlanta Chapter of TiE. According to Rajan, "TiE's founders and Charter Members are collaborating to mentor 75+ entrepreneur led companies per year through our five pillars." He went on to detail the pillars as TYE - targeting young entrepreneurs, TiE X - an accelerator program, E2E - connects entrepreneurs to global corporations, COBA - provides mentoring and board room intelligence, and Social Business - supports entrepreneurs developing businesses focused on social missions and community development.
Rajan explained, "Charter Members are those who have successfully completed the program and are willing and able to give back."
Katie Elizabeth is the founder and co-chair of TiE X. As one of the five pillars, TiE X is an accelerator for early stage and emerging entrepreneurs. TiE X sponsors Ideation that guides participants through how to ideate, evaluate, select ideas, and then prepare them for execution, and Startup that helps entrepreneurs launch and scale their startups. According to Katie, "The curriculum is designed around lean startup methodology to enable rapid iteration for faster failure and faster success."
To hear more about TiE Atlanta, tune in to Atlanta Business Radio.
About Lee Kantor:
Lee Kantor has been involved in Internet radio, podcasting and blogging since he started the Dr. Fitness and the Fat Guy show in 2005. Since then, Lee has interviewed well over 1000 entrepreneurs, business owners, authors and celebrities on a variety of shows and at live events. In addition to his hosting duties, Lee is a Managing Partner at BusinessRadioX® and is committed to helping entrepreneurs and business owners in Atlanta learn how to use radio to dramatically grow their businesses.
About Stone Payton:
For over 24 years, Stone Payton has been helping organizations and the people who lead them drive their business strategies more effectively. He is a Managing Partner at BusinessRadioX® and the author of SPEED®: Never Fry Bacon In The Nude: And Other Lessons From The Quick & The Dead, and has dedicated his entire career to helping others produce better results in less time.
About Atlanta Business Radio:
http://www.atlantabusinessradio.businessradiox.com
Each week, from the BusinessRadioX® studio in Sandy Springs, Lee Kantor and Stone Payton interview Atlanta, Georgia's top businessmen and businesswomen to learn what makes them the best at what they do.
About BusinessRadioX®:
BusinessRadioX® provides a turnkey solution for business owners who want to leverage the power of internet radio to meet their best prospects, establish credibility for their organization and heighten the placement of their brand in search engines rankings. With a professional venue and a proven formula, BusinessRadioX® helps host podcast their shows and create a regular stream of dynamic content to share with their prospects and feed the search engines every week. Programs are recorded and streamed live to the internet from our studios in the greater Atlanta area. For more information or to hear a live show, visit: http://www.businessradiox.com.