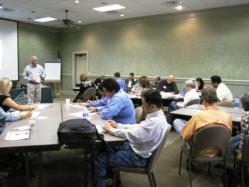 Cincinnati, OH (PRWEB) June 11, 2013
Small business owners keep our country running. They toil away to bring their passions and value to their communities – they work long weekends, miss family vacations and strive to bring us the goods and services we depend on every day.
In honor of National Small Business Week (June 17 – June 21), The Growth Coach would like to thank our nation's small business owners for all their hard work as the foundation of our country's economic engine. To show appreciation and support during Small Business Week, The Growth Coach is making its best-selling book, Becoming a Strategic Business Owner, available as a free download. The Growth Coach also offers a variety of free whitepapers as well as a blog and e-newsletters for business owners and entrepreneurs. For more information, visit The Growth Coach's resources page.
"More than 97 percent of all businesses have less than $5 million in revenue and fewer than 100 employees – and we are thrilled to serve and help several thousand of these small business owners each and every year," said Dan Murphy, Growth Coach CEO and Founder. "I love working with these owners and entrepreneurs as they are passionate and true creators: creating jobs, innovations and products and services that help make a difference in the lives of millions."
The Growth Coach, which started as a small business in Cincinnati in 2002, is now a significant business and sales coaching franchise in over 140 markets and serving thousands of small business owners, managers, self-employed professionals, sales people and other business leaders each year. In fact, Growth Coach was just recognized by Entrepreneur Magazine in 2013 as the #1 ranked business coaching franchise.
Glenn Smith, the owner of The Growth Coach in Houston, said his small business clients typically face three main challenges: marketing, human resources and cash flow. As such, they need greater clarity, confidence and capabilities to manage these vital areas.
"Most small business owners get into business because they have a trade or skill – something they have a passion for – that they want to share with the community, but they need a little help marketing themselves and handling the other aspects of the business," Smith said. "Those are just some of the things we can help with as Growth Coach owners."
"Small business owners are special because they don't just own their businesses – the businesses are their lives. They are mentally and emotionally invested and that's a blessing, challenge and a curse. Working with a Growth Coach can make a real difference," he said.
In fact, Murphy initially founded his coaching company over two decades ago to help the small business owners in the Greater Cincinnati area that felt overworked, overwhelmed and off track. He developed a coaching and accountability process to help them achieve greater focus, effectiveness, success and personal balance. But eventually his vision expanded and he wanted to serve tens of thousands of additional clients outside of his communities, he achieved that national vision, scope and reach by developing a national franchise system.
"Small business owners have always been my heroes and the work that they do every day is vital to our country. We are truly a small business nation. At The Growth Coach, we specialize in coaching groups of business owners, managers and sales professionals with our fully guaranteed strategic-focusing workshops. Additionally, we provide one-to-one coaching and other affordable options to help business owners improve themselves, their businesses and their lives," he said.
For additional information, visit http://www.TheGrowthCoach.com or call 855-300-COACH.
About The Growth Coach
The Growth Coach was founded in Cincinnati in 2002 and is the only pure business and sales coaching franchise aimed at driving success while balancing the lives of business owners, managers, sales people, self-employed professionals and executives across a wide spectrum of businesses and industries. The Growth Coach specializes in group workshops and individual coaching with the goal of helping clients gain greater focus and leverage to work less, earn more and enjoy more fulfilling lives by implementing strategies to overcome obstacles. The Growth Coach is active in more than 140 markets in the United States and abroad and is always looking to expand. For more information about the company or the process of opening a business and sales coaching franchise, visit http://www.TheGrowthCoach.com.