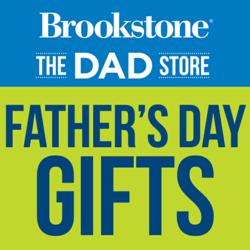 Merrimack, NH (PRWEB) June 06, 2013
Long known as the "Dad Store" at the mall, specialty retailer Brookstone is making things official today by launching "The Dad Store" Father's Day Gift Campaign. The innovative retailer and product development company offers selections both in stores and via Brookstone.com sure to be the best fit for every kind of Dad. To ensure your dad loves this year's gift, tap into Brookstone's rich history as the ultimate gifting destination.
Brookstone is also offering $20 off $100 purchases now through Father's Day using code 20GIFT (some exclusions apply; see site for details).
"Dad isn't always easy to read, and selecting the perfect gift for him can be a challenging task," said Steve Schwartz, Brookstone vice president of merchandising and product development. "This year shoppers will not only find a variety of products accommodating many budgets, but will be sure to discover something dad never knew he always wanted."
From the grilling master to the entertaining aficionado, tech junkie or athlete, shoppers will find a fit for every dad at Brookstone. You're the ultimate judge, but some great options for your type of dad may include:

Flip through Brookstone's Father's Day Gift eCatalog online at Brookstone.com and visit a Brookstone retail location or Brookstone.com to discover more great gifts.
About Brookstone
Brookstone is an innovative product development company and multichannel lifestyle retailer. Brookstone operates more than 250 stores nationwide and in Puerto Rico. Typically located in high-traffic regional shopping malls and airports, the stores feature unique and innovative consumer products. Brookstone also operates an e-commerce business that includes the Brookstone catalog and Brookstone.com. Fans of Brookstone are encouraged to Like on Facebook, follow on Twitter and The Fancy, and pin on Pinterest.