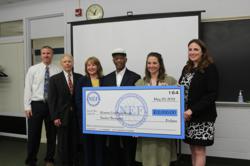 Alexandria, VA (PRWEB) June 08, 2013
Warren County School District of Warren, PA, was awarded the 2012-2013 National STEM+ Leadership Award on Wednesday, May 29, 2013. The district received a check for $12,000, and the leaders received plaques.The National Education Foundation (NEF), the nonprofit leader in K-12 STEM (Science, Technology, Engineering, Math) education, and its university partner State University of New York (SUNY) were impressed with the WCSD's dedication to the kids. Next year, the student who makes the best use of SuccessMaker at Beaty-Warren Middle School may be going to Disney World.
At the Award ceremony, NEF Chairman Dr. Appu Kuttan stated, "NEF is concerned that US is ranked 25th out of 35 countries in math and science. We hope our STEM academies across the nation will help students of disadvantaged schools improve their STEM skills, thus enabling them to compete for jobs in the global economy."
The award recognizes Warren County's accomplishment of advancing an average student one grade level in a subject in 22 learning hours on the NEF's CyberLearning Total STEM+ System Solution including individualized learning using top-rated online courses, teacher training, tech support, learning management system, teacher stipends, student awards and parent training.
By providing STEM courses, as well as courses in other essential subjects such as English language arts, social studies, SAT/ACT, IT, business and management, the "STEM+ Academy" program provides a well-rounded educational experience for students of all grade levels.
The NEF's STEM+ Solution has been implemented in school districts across the country by SUNY in partnership with local universities. Warren's success during the past academic year stood out as a clear example of how to effectively improve student achievement by motivating all the stakeholders—students, teachers, parents and administrators.
Funding for the program at Warren and many other districts is provided in large part by the federal Qualified Zone Academy Board (QZAB) program, which is used to simultaneously improve academic facilities and curriculum programs in underprivileged school districts. See http://www.qzab.org.
Schools, that do not receive QZAB funds, have the opportunity to seek out financial support from local businesses and organizations, via the "Adopt-A-School" national initiative by NEF. See http://www.cyberlearning.org.