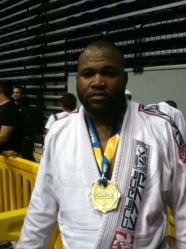 "Alfonso has won medals at dozens of IBJJF tournaments, including many Grand Slams. " - Julius Park, Head Coach
Elkridge, MD (PRWEB) June 06, 2013
Crazy 88's Alfonso Joel Washington became Worlds silver medalist at blue belt ultra heavy last week, fighting his way to second place at the biggest BJJ tournament of the year.
It was a good year for Washington, known as "Big Al," or "Big Sal," by his teammates. In 2013, Washington won medals at every one of the four Grand Slam jiu jitsu tournaments held by the International Brazilian Jiu Jitsu Federation (IBJJF). The Grand Slam tournaments are considered the four toughest competitions in the sport.
At the start of the season in Lisbon, Portugal, Washington became European Open Champion, winning gold in his weight class and bronze in the open weight. At the Pan American Championship in Irvine, CA in March, he also won gold, becoming Pan American Champion.
A month later, Washington traveled to Brazil for Brazilian Nationals in Sao Paulo, winning silver. Then, on jiu jitsu's biggest stage in Long Beach, California, he won silver once again at the World Championships.
"Al is a dedicated competitor, always ready to travel and test himself at competition after competition," says Julius Park, coach and founder of Crazy 88 Brazilian Jiu Jitsu in Elkridge, Maryland. "He has won medals at dozens of IBJJF tournaments, including many Grand Slams. He has nine or ten Grand Slam medals himself."
Crazy 88 Brazilian Jiu-Jitsu consists of two locations, one in Howard County, MD and another in Owings Mills, MD. If you are interested in No Gi grappling, Brazilian Jiu-Jitsu, Muay Thai Kickboxing or Mixed Martial Arts training in the Baltimore area, please call (443) 283-1450 or visit http://www.crazy88bjj.com