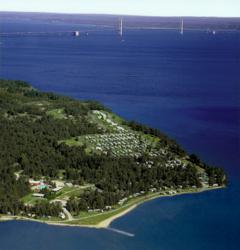 We work hard everyday to make our campground the best it can be, and it seems that people have noticed
Mackinaw City, MI (PRWEB) June 09, 2013
In a poll of TV 9 & 10 viewers, Mackinaw Mill Creek Camping, in Mackinaw City, MI has been voted as the "Favorite Campground in Michigan." This family-owned and privately operated campground tops a list that was otherwise composed of state parks (including Ludington State Park, Interlochen State Park, South Higgins Lake State Park and Aloha State Park).
"The honor was totally unexpected," says Vince Rogala, General Manager and one of the four brothers whose family built and operates the camp. "We work hard everyday to make our campground the best it can be, and it seems that people have noticed. We are coming up on our 50th year of operation, which is a big milestone for our family. Last week the phone rang and TV 9 & 10 told us we had topped the list and asked if they could come out to tape a segment about the park. We were surprised, and of course, very happy for the recognition, especially to be known as the "number one favorite Michigan campground." Mackinaw Mill Creek Camping has always been highly rated, if not the top rated campground in Michigan, but nothing like this has ever happened before."
The campground features one mile of shoreline on the Straits of Mackinac with views of the Mackinac Bridge, Mackinac Island, Round Island and Bois Blanc Island. There are campsites for every type of camper ranging from basic sites for tents up to modern full hookups for the largest RV's. A variety of camping cabins with knotty wood pine interiors include not only economical and basic cabins (that share camp communal restrooms and showers), but also lakefront cabins that have modern bathroom facilities. Amenities include a heated pool, park store, Wi-Fi, LP gas refilling, modern restroom and shower facilities (cleaned twice daily), miles of roads and trails for hiking and biking, three playgrounds, a free shuttle to Mackinac Island ferries, as well as free antique fire truck rides in the evenings.
For those on a budget: Mackinaw Mill Creek Camping offers supersaver sites which rent for as little as $13 in the peak season. Despite offering the cheapest, least expensive campsites available in the Mackinaw area, these economical sites allow access to all of the campground's facilities and are located in a wooded area.
One factor that might contribute to the campground's popularity is that Mackinaw Mill Creek Camping also operates the scenic and sprawling 310-acre, 18-hole Mackinaw Club Golf Course and offers its guests attractive discounts (guests can play 18 holes w/cart for $15 after 2 p.m.). Professionally designed by world renowned architect Jerry Matthews, the Mackinaw Club winds through natural wetlands and streams, along mature forests and rolling meadows. The 6,807 yard design finishes each hole with elevated greens of manicured bent grass. The course is designed for players of all ages and abilities.
"Our campers are our guests who many times become our friends. We are meeting third and fourth generation campers. I see families every day who are enjoying the camp with their children and who have stories to tell me about coming here with their parents when they were kids. Over and over again, I hear that this is their favorite place to stay. It is exciting to know we have been voted as the top campground in the State of Michigan, but for us it is enough to be able to share yet another beautiful summer on the Straits of Mackinac with all our old friends, and hopefully make a few new ones," explained Rogala.