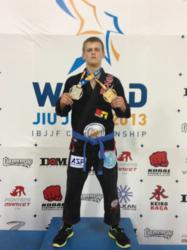 "After the many years I have been involved in Jiu Jitsu, this was a very special day for me." - Mike Atkin, Jiu-Jitsu Brown Belt and first ever Crazy 88 student
Baltimore, MD (PRWEB) June 07, 2013
The week after the World Championships of Brazilian Jiu Jitsu (BJJ), ran by the International Brazilian Jiu Jitsu Federation (IBJJF), eight practitioners moved up in rankings at Crazy 88 Martial Arts Academy. Out of the eight, there were two World Champions and two World Silver Medalists - more than any other Mixed Martial Arts school in Maryland.
Jiu Jitsu rankings are denoted by five different belt colors: White, Blue, Purple, Brown, and Black. Jiu Jitsu promotions are based on the knowledge of the Martial Art, attitude, work ethic and skill. On average, it takes someone about 10 years to reach the black belt level.
Last Monday, Crazy 88 had added three new Brown Belts, three new Purple Belts, and Two new Blue Belts.
Amongst the brown belts were Tye Ryan Murphy (Purple Belt World Champion), Tim Spriggs (#1 Ranked Purple Belt in 2013), and Jon Delbrugge (Brazilian National Champion).
The new Purple Belts were Devon Delbrugge (Blue Belt World Champion), Alfonso Washington (World Silver Medalist), and Chris Tran (World Silver Medalist).
As for the blue belts it was a very special moment for the two. Scott and Rachel Kamins are married and have been practicing the martial art together for three years alongside their two children.
A brown belt at Crazy 88, Mike Atkin, who was in attendance the night of the belt promotions said, "After the many years I have been involved in Jiu Jitsu, this was a very special day for me. Being able to see all the hard work these people put into Jiu Jitsu from when they started, and all the way to now, it is amazing to see the progression."
Crazy 88 BJJ has two locations in the Baltimore area, one in Elkridge, MD and another in Owings Mills, MD. Classes in No Gi Grappling, Brazilian Jiu-Jitsu, Mixed Martial Arts (MMA), and Muay Thai kickboxing are offered at both locations and for both Adults and Children. To find out more information, please call (443) 283-1450 or visit http://www.Crazy88BJJ.com