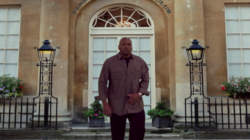 Dorner: Manifesto for Murder is the first movie based on the murdering rampage of ex-LAPD cop Chris Dorner.
Burbank, California. (PRWEB) June 07, 2013
L.A. Castle Studios today announced that filming has been completed and a trailer released on the first feature length movie that chronicles the murdering rampage of ex-LAPD officer Christopher Dorner (attribution: http://www.nbclosangeles.com/news/local/Christopher-Dorner-Former-LAPD-Officer-Murder-Irvine-190176131.html -- NBC Los Angeles, Feb. 8, 2013). Inspired by actual events, Dorner: Manifesto for Murder, takes viewers through the twists and turns of one of the most talked about manhunts in US history -- a story that emerged less than four months ago -- and is still in the news almost every day.
Viewers will learn the story of the murdering outlaw who seemed to travel at will around Los Angeles, even after a $1,000,000 bounty was placed upon his head. They will see how one man -- a psychopathic killer to some, an innocent victim trying to clear his name to others -- took California on a ride that fascinated the entire country.
In this film, produced, written, and directed by Tim Pipher, the dramatic events of February 2013 are explored,and conspiracy theories are both proposed and exposed.
Starring Jay Jee as Chris Dorner, Melissa Ricci, and Adrian Bustamante, viewers will discover what happens when one man holds an entire city hostage, and that city decides to fight back. They'll be presented with the story of a hero, of desperate pursuits for easy money, a media gone wild, and a massive police cover-up. Finally, they'll meet a true vigilante whose justice rained down with a fury that only love could inspire.
Within the film, local Los Angeles TV news coverage of the Dorner saga is both saluted and satirized, as are national television talk shows. In order to present a realistic portrayal of actual TV newscasts and talk shows, producers created elaborate million dollar virtual news and talk show sets that almost precisely mimic the actual sets that had viewers glued to their televisions. These elaborate sets and attention to detail result in what some say may be the most authentic portrayal of TV news and talk show sets ever seen on film.
Dorner: Manifesto for Murder also exposes the strange phenomenon of many residents actually supporting and cheering on the admitted murderer as his terror continued.
This is L.A. Castle Studios first of a planned series of movies based on actual events, using a strategy of creating compelling films within weeks or months of the events occurring.
The trailer for Dorner: Manifesto for Murder is available now on YouTube (http://youtu.be/-VwJCShli2I), Vimeo, and at http://www.TheDornerMovie.com. When finished, the movie will be available for viewing at Vimeo on Demand as well as other venues currently being negotiated.
About L.A. Castle Studios:
L.A. Castle Studios (http://www.LACastleStudios.com), located in Burbank CA, is a full service studio and sound stage involved in the production of feature films, national television shows, TV commercials, and discount website and internet videos. One of the only studios open to the public in the United States offering a multi-camera 3D virtual studio system and virtual sets, L.A. Castle Studios is able to eliminate the costs of set construction and on-location shooting for its video production clients.