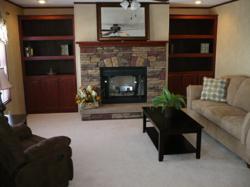 Garrett, Indiana (PRWEB) June 14, 2013
Factory Expo Homes Sales Center in Garrett, Indiana is pleased to announce the Austin model, a mobile home with 2,280 square feet, 5 bedrooms and 3 bathrooms. During the month of June, customers can take advantage of Factory Expo Home's Summer Sales Event, where the Austin mobile home is available for under $30 per square foot.
Perfect for large families and homeowners with budget concerns, the Austin model has become a top seller due to its spacious design, modern amenities and surprising affordability. One of the most desirable features of this home is the stone fireplace, which is framed by two built-in wood bookcases. The open kitchen maximizes space and features stone facing on the kitchen breakfast bar. These are just a few of the features that make the Austin an uncommon value and one of the most popular new mobile homes available at the Factory Expo Homes Sales Center in Garrett, Indiana.
Customers interested in the Austin mobile home can visit the Garrett, Indiana Sales Center's website at http://www.ExpoHomes.com. Customers can also call the Sales Center at 1-800-965-0348 or visit the sales center in person to explore a furnished Austin model and take a free factory tour.
About Factory Expo Homes: Factory Expo Home Centers was founded in 1999 and specializes in all aspects of the park model home, mobile home and manufactured home industries. Based in Chandler, Arizona, and serving the entire contiguous United States, Factory Expo Home Centers operates Sales Centers in Arizona, Texas, Oregon, Nebraska, Virginia, Indiana, Florida and North Carolina and is the nation's largest factory located Manufactured Home retailer. Product offerings include Park Model Homes, Mobile Homes, and Manufactured Homes. Visit FactoryExpoHomes.com for more information.