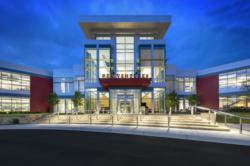 There's a lot of opportunity here, and we're ready to keep growing.
(PRWEB) June 07, 2013
Red Ventures is set to hire 140 inside sales agents by mid September due to continued company growth at the marketing and technology company, which is known for its vibrant culture and advanced sales process. The company will host an interview day on June 11.
"We just celebrated our two year anniversary in San Antonio, and it's the perfect time for us to reaffirm our continued investment in San Antonio," said Elizabeth Persson, director of human capital at Red Ventures. "There's a lot of opportunity here, and we're ready to keep growing."
Red Ventures has grown by 50 percent every year for the past three years and has tripled its employee base in the same time frame. Last year the marketing and technology company more than doubled the number of employees at the San Antonio sales center alone and will continue to provide San Antonio with careers in leadership and sales.
"Red Ventures is a looking for people who are good at what they do and enjoy it," said LeAnne Meador, the senior sales recruiter in San Antonio. "We've shown San Antonio that, at Red Ventures, you can develop professionally and have a long-term career on our team."
About Red Ventures:
Red Ventures is a technology company that builds high-growth businesses. Through a combination of strategic marketing and sales, Red Ventures optimizes the customer lifecycle for large brands, from initial interest in the marketplace to the end transaction. Success is driven by advanced Internet analytics, proprietary technology and the company's greatest competitive advantage – the people. Red Ventures has twice been ranked among the top 20 fastest growing companies on the Inc. 500 list and has twice been named the Best Place to Work in Charlotte. Founded in 2000 by Ric Elias and Dan Feldstein, Red Ventures employs more than 1,700 people in four locations. Learn more at http://www.redventures.com.