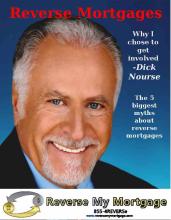 The reverse mortgage calculator is a very helpful tool in making big financial decisions.
Salt Lake City, Utah (PRWEB) June 06, 2013
How can using the reverse mortgage calculator benefit someone looking for a loan?
By getting a reverse mortgage, seniors planning for retirement can utilize the benefits of getting a steady monthly income and having other expenses paid for. With the use of RMM's online calculating tool, seniors have been able to get an accurate estimate of what types of income and lump sum they will be earning with their HECM loan. These types of loans can be the right move for a lot of people, but not knowing if it is the right move pre hand could be a big mistake. While there are strong benefits of getting a Utah reverse mortgage, there are also a lot of negative factors that should be taken into account.
How to know if a reverse mortgage is the right decision?
With the right financial situation, getting one of these types of loans can be the right decision. But before applying to receive it, it is highly recommended to check and see if it will be a good idea. RMM can answer questions that could pose as a possible threat to people looking into receiving a reverse mortgage. They are frequently asked question such as: Will my family be protected? How are the loans paid off? What are the risks of getting these loans? All of these questions are frequently asked from people looking into receiving and HECM loan, it is good to ask questions, and the experienced and knowledgeable workers from RMM can help people find the answers.
How to know the pros and cons to getting a Utah reverse mortgage.
For those seniors that are planning their retirement, they should consider getting reverse mortgage loan. But before going through with it, seniors should be aware of what they could be at risk for as well as how these loans could benefit them. RMM has offered their reverse mortgage calculator to inform people of what they could be receiving monthly or how much their lump sum may be. But to find out what the negative effects are of getting a Utah reverse mortgage, people are strongly advised to talk to a representative of RMM. Employees of RMM are experienced and can apply their knowledge to help people determine if getting a HECM loan is the right move for them. They can go over the negatives as well as the benefits that will come with these loans as well as answer the frequently asked questions.
For more information about RMM, visit their website: http://www.mortgagereversecalculator.com/.