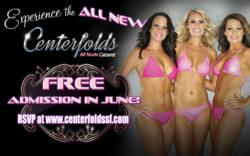 We're so excited about the all new Centerfolds All Nude Cabaret that we're getting rid of our entry fee from now until July 1, 2013
San Francisco, CA (PRWEB) June 06, 2013
Kick off the summer right with free admission to Centerfolds All Nude Cabaret for the entire month of June. Known for bringing the steamiest all nude action and shower shows to the famed Broadway Street, this classy San Francisco adult club is showing off its new show in style.
"We're so excited about the all new Centerfolds All Nude Cabaret that we're getting rid of our entry fee from now until July 1, 2013," said Centerfolds Marketing Director Axel Sang. "Come experience what the new Centerfolds show has to offer."
This San Francisco red-light district staple features all-nude entertainers, girl-on-girl stage shows, shower shows, multi-level stages, a bachelor party suite, VIP rooms and booths, and concierge service for the ultimate strip club experience.
Just added to the lineup of sexy shows is the Centerfolds All Nude Cabaret. Guests can enjoy free admission for June 2013 with an RSVP, which can be made here: http://centerfoldssf.com/experience-the-all-new-centerfolds/.
The club opens at 3:00 pm and closes at 2:00 am throughout the week for guests ages 18 and up. Focused on customer service, Centerfolds entertainers are hand-picked from the hottest selection San Francisco offers. Visit today to see why Centerfolds is known as San Francisco's Home of the Perfect 10.
Looking for a great place to throw a party or plan a corporate event? Choose a Party Package from Centerfolds and reserve exclusive VIP access to rooms, shows, limo service and more.
For more information about Centerfolds, call (415) 834-0662, visit centerfoldssf.com or drop by the premier venue for San Francisco adult nightlife at 391 Broadway in the North Beach neighborhood of San Francisco.
About Centerfolds
Centerfolds is more than a San Francisco nude club, it is an upscale and couples-friendly club with and attentive staff and talented dancers. Private rooms are available for singles, couples and parties to enjoy alone or with the company of one or more dancers. The club also features banquette booths, private bedrooms, shower shows and a VIP lounge looking over the main stage.