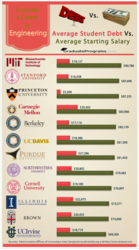 Englewood, NJ (PRWEB) June 07, 2013
Graduate Programs recently released the Top 10 Engineering Graduate Programs. Graduate Programs researched these top rated programs and showed which engineering programs would produce the highest starting salary and lowest debt burden.
Graduate school is an investment in the future; these statistics represent a solid student investment. The top three schools, chosen from the GP's top engineering programs are Princeton University, Massachusetts Institute of Technology, and Stanford University.
Princeton University students have the most favorable ratio, with the top spot for first year salaries at just over $87,000, but an average debt of only $5,000, thanks to their student grant funds. Students at the Massachusetts Institute of Technology earn an average starting salary of more than $90,000. With an average student debt of $18,100, students are left in a position to earn more than $70,000 while paying off their graduate student loans in full during their first year of work. Students who graduate from Stanford University earn an average of $87,600 and leave with about $16,100 of loan debt, bringing their first year net salaries to about $71,200.
For more about the earning ratio between starting salaries and student debt for top-rated engineering programs, please like us on Facebook at facebook.com/GraduatePrograms or follow us on Twitter at Twitter.com/Grad_Programs.
METHODOLOGY
Graduateprograms.com reaches current and recent graduate students through their reviews, scholarship entries as well as social media platforms. Graduateprograms.com assigns 15 ranking categories to each graduate program at each graduate school. Rankings cover a variety of student topics, such as academic competitiveness, career support, financial aid, and quality of network.
For a given graduate program, rankings are determined by calculating the average score for each program based on the 15 ranking categories. These scores are then compared across all ranked schools for that program and are translated into a final ranking for that graduate program, i.e., engineering. A given graduate program is not ranked until a minimum threshold of graduate student surveys is completed for that graduate program.