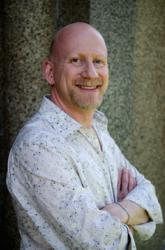 "One of the best sex and gender blogs on the Internet belongs to Dr. Charlie Glickman."

—SF Weekly
(PRWEB) June 07, 2013
Dr. Charlie Glickman and Violet Blue have been named the Best Sexuality Educators of 2013 by SF Weekly. Both Glickman and Blue are known for their exceptionally groundbreaking and thoughtful approaches sexual education and sexuality, and both have published guides with Cleis Press. Glickman just came out with The Ultimate Guide to Prostate Pleasure, and Blue's library of titles includes The Smart Girl's Guide to the G-Spot, The Ultimate Guide to Felatio, and The Ultimate Guide to Cunnilingus.
While Violet lives on the web and is committed to making information about sexuality open-source, Charlie is taking his passion for education to the road in a national tour for prostate pleasure. Both educators are committed to making conversations about sexuality open and unabashed, and they aren't afraid to explore areas that others might shy away from. The Ultimate Guide to Prostate Pleasure debunks ideas that masculinity is dependent upon certain sexual acts, and Blue's books have been excerpted on Oprah.com for their exploration of female desire.
Charlie Glickman PhD is a sexuality educator, writer, blogger, workshop teacher, and university professor. He was also the Education Program Manger at Good Vibrations for sixteen years. Charlie's career in sexuality began when we was in college, providing safer sex and queer outreach workshops as a peer educator, but it really took off when he moved to San Francisco in 1992. Since then, he has taught classes and workshops for community groups, professional organizations, non-profit agencies, and university classes. Charlie has also presented at many professional conferences, including the American Association of Sexuality Educators, Counselors, and Therapists (AASECT), the Society for the Scientific Study of Sexuality, and Sex::Tech. He is certified as a sexuality educator by AASECT and received his doctorate in Adult Sexuality Education from the Union Institute and University in 2005.
Violet Blue (tinynibbles.com, @violetblue) is a CBSi/ZDNet columnist, a Forbes "Web Celeb" and one of Wired's "Faces of Innovation"—in addition to being a blogger, high-profile tech personality and podcaster. Violet has nearly 40 award-winning best-selling books; an excerpt from her Smart Girl's Guide to Porn is featured on Oprah Winfrey's website. She is regarded as the foremost expert on sex and technology, a sex-positive pundit in mainstream media (CNN, The Oprah Winfrey Show, The Tyra Banks Show) and is regularly interviewed, quoted and featured prominently by major media outlets such as MacLife, O: The Oprah Magazine and the UN-sponsored international health organization RH Reality Check. She headlines at conferences ranging from ETech, LeWeb, and SXSW: Interactive, to Google Tech Talks at Google, Inc. The London Times named Blue "one of the 40 bloggers who really count."